>
>
NVIDIA Extends PC Gaming Leadership With Introduction of New GeForce GTX 770 GPU
NVIDIA Extends PC Gaming Leadership With Introduction of New GeForce GTX 770 GPU
World's First GPU to Offer Blazing Fast 7 Gbps Memory
For more information, contact:
Padmini Hegde
NVIDIA Public Relations
M +91.98802.19318
O +91.80.6691.5202
padminih@nvidia.com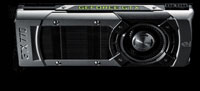 Designed for dispatching extremely fast frame rates to all of this year's hottest PC games, the new NVIDIA GeForce GTX 770 GPU boasts an incredibly powerful Kepler GPU with 1,536 cores and either 4GB or 2GB of high-speed 7 Gbps GDDR5--the world's fastest memory ever on a graphics card.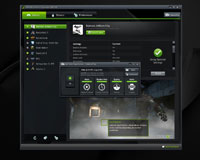 ShadowPlay, a new feature coming soon to the GeForce Experience software, allows DVR-type recording of gameplay, allowing gamers to share their most exciting game footage with their friends. Another unique feature exclusive to GeForce GPU gamers only!
GeForce Experience is the perfect complement to the GeForce GTX 770's raw horsepower. GeForce Experience automatically configures the 3D setting for each game to ensure the best experience based on the system configuration. It notifies gamers of software updates and automatically installs GeForce Game Ready(TM) drivers so gamers can maximize the performance of their GeForce GPUs and enjoy the latest PC games the day they are released.
NEW DELHI, India.—May 30, 2013—NVIDIA today launched the NVIDIA® GeForce® GTX 770 GPU, which offers an unprecedented level of PC gaming performance for only INR 29,990.
The newest addition to the award-winning NVIDIA Kepler™ architecture lineup of gaming GPUs for the high-end market, the GTX 770 joins the GTX TITAN and the GTX 780 in delivering superior gaming performance, advanced features, and silky smooth frame rates for unsurpassed high-definition PC gaming.
"Only NVIDIA GPUs consistently provide gamers with the ability to achieve extremely fast frame rates at high-definition resolutions with all of the eye candy turned on," said Scott Herkelman, general manager of the GeForce GPU business at NVIDIA. "The GeForce GTX 770 represents a new threshold of performance and features for under $400 and our commitment to PC gaming is why GeForce GPUs continue to be the No. 1 choice of gamers worldwide."
Designed for dispatching extremely fast frame rates to all of this year's hottest PC games, including Call of Duty: Ghosts and Watch Dogs, the GeForce GTX 770 boasts an incredibly powerful Kepler GPU with 1,536 cores and either 4GB or 2GB of high-speed 7 Gbps GDDR5—the world's fastest memory ever on a graphics card.
To satisfy gamer demands for greater customization and overclocking options, the GeForce GTX 770 GPU includes NVIDIA GPU Boost™ 2.0 technology, which automatically increases the GPU's clock speeds for enhanced gaming performance, while adding temperature target and fan controls, as well as extra over-voltage headroom and optimizations for advanced water-cooling solutions.
The GeForce GTX 770 GPU also supports NVIDIA's latest array of gaming technologies, including the PhysX physics engine®, NVIDIA TXAA™ anti-aliasing and GeForce® Experience™ software, which delivers the industry's best drivers for smooth gaming, advanced features like NVIDIA ShadowPlay™(1) and optimal playable settings with the convenience of single click operation to gamers everywhere. And for those gamers who demand the very best, NVIDIA SLI® technology – the industry's preeminent multi-GPU solution – scales to deliver even higher levels of performance, with new adaptive temperature controllers help delivering amazing performance that is nearly silent to the human ear.
Availability and Pricing
The NVIDIA GeForce GTX 780 GPU is available immediately from the world's leading add-in card suppliers, ASUS, Zotac and Galaxy. Pricing is expected to start at INR 29,990.
For more information on how GeForce GTX GPUs are dramatically changing the way games are played, visit //www.nvidia.in/object/geforce_family_in.html. The NVIDIA Flickr page hosts the entire lineup of GeForce product photos.
About NVIDIA
Since 1993, NVIDIA (NASDAQ: NVDA) has pioneered the art and science of visual computing. The company's technologies are transforming a world of displays into a world of interactive discovery — for everyone from gamers to scientists, and consumers to enterprise customers. More information at //nvidianews.nvidia.com and //blogs.nvidia.com.
Certain statements in this press release including, but not limited to, statements as to: the impact, benefits and availability of NVIDIA GeForce GTX 770 GPUs and the impact and benefits of NVIDIA GeForce Experience software are forward-looking statements that are subject to risks and uncertainties that could cause results to be materially different than expectations. Important factors that could cause actual results to differ materially include: global economic conditions; our reliance on third parties to manufacture, assemble, package and test our products; the impact of technological development and competition; development of new products and technologies or enhancements to our existing product and technologies; market acceptance of our products or our partners' products; design, manufacturing or software defects; changes in consumer preferences or demands; changes in industry standards and interfaces; unexpected loss of performance of our products or technologies when integrated into systems; as well as other factors detailed from time to time in the reports NVIDIA files with the Securities and Exchange Commission, or SEC, including its Form 10-Q for the fiscal period ended April 28, 2013. Copies of reports filed with the SEC are posted on the company's website and are available from NVIDIA without charge. These forward-looking statements are not guarantees of future performance and speak only as of the date hereof, and, except as required by law, NVIDIA disclaims any obligation to update these forward-looking statements to reflect future events or circumstances.
# # #
© 2013 NVIDIA Corporation. All rights reserved. NVIDIA, the NVIDIA logo, GeForce and GeForce Experience are trademarks and/or registered trademarks of NVIDIA Corporation in the U.S. and other countries. Other company and product names may be trademarks of the respective companies with which they are associated. Features, pricing, availability and specifications are subject to change without notice.