>
>
NVIDIA GeForce GTX 700M-Powered Laptops Shatter Records for World's Fastest and Thinnest Gaming Laptops
NVIDIA GeForce GTX 700M-Powered Laptops Shatter Records for World's Fastest and Thinnest Gaming Laptops
Next-generation Laptops 40% Thinner and 40% Lighter with More Power Efficient GPUs
For more information, contact:
Padmini Hegde
NVIDIA Public Relations
M +91.98802.19318
O +91.80.6691.5202
padminih@nvidia.com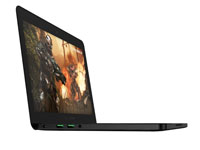 The Razer Blade 14 uses the power efficiency of the GeForce GTX 765M to achieve a profile that is thinner than a standing dime.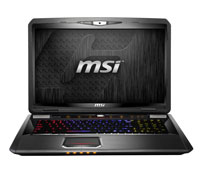 The MSI GT70 features the world's fastest notebook GPU, the GeForce GTX 780M.
SANTA CLARA, Calif. — May 30, 2013—NVIDIA today introduced the NVIDIA® GeForce® GTX 700M series of laptop GPUs, which enable gaming laptop PC designs that are smaller and more powerful than ever before.
The GeForce GTX 700M series GPUs bring blistering performance, advanced gaming technology and true portability to the next generation of gaming laptops.
"Virtually all of the new gaming laptops are built around GeForce GTX 700M GPUs," said Rene Haas, vice president and general manager of computing products at NVDIA. "The GPU is the heart of any gaming PC, and all the top gaming OEMs unanimously chose the GeForce GTX 700M series this refresh cycle. GeForce GTX means gaming, more now than ever before."
The new GeForce GTX 700M GPU lineup includes:
GeForce GTX 780M – The world's fastest laptop GPU1
GeForce GTX 770M – up to 55 percent faster2 than the product it replaces
GeForce GTX 765M – Selected by Razer for the world's thinnest PC gaming laptop, 40 percent thinner and lighter than the current record holder3
GeForce GTX 760M –up to 30 percent4 faster than the product it replaces
Based on the NVIDIA Kepler™ architecture, 700M series GPUs feature technologies that automatically maximize laptop performance and the gaming experience. With no effort or input from the user, the technologies work in the background to save battery life, enhance performance and enrich visual details — providing the best laptop experience the GPU can deliver. They include:
NVIDIA® Optimus™ technology, which enables extra-long battery life by switching the GPU on and off so it runs only when needed.
NVIDIA GeForce® Experience™ software, which adjusts in-game settings for the best performance and visual quality specific to a user's laptop and automatically keeps GeForce drivers up to date.
NVIDIA GPU Boost™ 2.0 technology, which intelligently adjusts GPU clock speed to maximize graphics performance.
Laptop manufacturers that have committed to using GeForce GTX 700M GPUs in their designs include Acer, Asus, Clevo, Gigabyte, MSI, Razer and Toshiba. Others will be announced soon. More information about the GeForce 700M family of laptop GPUs is available at //www.nvidia.in/object/geforce_family_in.html#source=pr.
About NVIDIA
Since 1993, NVIDIA (NASDAQ: NVDA) has pioneered the art and science of visual computing. The company's technologies are transforming a world of displays into a world of interactive discovery — for everyone from gamers to scientists, and consumers to enterprise customers. More information at //nvidianews.nvidia.com and //blogs.nvidia.com.
Certain statements in this press release, including but not limited to, statements as to the impact and benefits of NVIDIA GeForce GTX 700M GPUs, NVIDIA Optimus technology, NVIDIA GeForce Experience software and NVIDIA GPU Boost 2.0 technology are forward-looking statements that are subject to risks and uncertainties that could cause results to be materially different than expectations. Important factors that could cause actual results to differ materially include: global economic conditions; our reliance on third parties to manufacture, assemble, package and test our products; the impact of technological development and competition; development of new products and technologies or enhancements to our existing product and technologies; market acceptance of our products or our partners' products; design, manufacturing or software defects; changes in consumer preferences or demands; changes in industry standards and interfaces; unexpected loss of performance of our products or technologies when integrated into systems; as well as other factors detailed from time to time in the reports NVIDIA files with the Securities and Exchange Commission, or SEC, including its Form 10-Q for the fiscal period ended April 28, 2013. Copies of reports filed with the SEC are posted on the company's website and are available from NVIDIA without charge. These forward-looking statements are not guarantees of future performance and speak only as of the date hereof, and, except as required by law, NVIDIA disclaims any obligation to update these forward-looking statements to reflect future events or circumstances.
# # #
© 2013 NVIDIA Corporation. All rights reserved. NVIDIA, the NVIDIA logo, GeForce GTX, GPU Boost, GeForce Experience, Kepler, and Optimus are trademarks and/or registered trademarks of NVIDIA Corporation in the U.S. and other countries. Other company and product names may be trademarks of the respective companies with which they are associated. Features, pricing, availability and specifications are subject to change without notice.
_______________________________________
1 GeForce GTX 780M vs. Radeon 8970M, 19x10 in 3DMark Fire Strike. Based on publicly disclosed data as of May 15th, 2013.
2 Comparing with average FPS between GeForce GTX 670M and GeForce GTX 770M in Battlefield 3, Sleeping Dogs, Far Cry 3, Assassins Creed 3, Borderlands 2 at 1080P on High/Ultra Settings.
3 Comparing max z-height and weight between the thinness and lightest 15 laptop from the GeForce 600M generation (Clevo P150) to the new Razer Blade.
4 Comparing with average FPS between GeForce GTX 660M and GeForce GTX 760M in Battlefield 3, Sleeping Dogs, Far Cry 3, Assassins Creed 3, Borderlands 2 at 1080P on High/Ultra Settings.