Sign Up For GeForce Experience 3.0 and Get Rewarded
Just by being a member of the GeForce Experience community you'll have access to great giveaways, from game codes to graphics cards!
Current Giveaway
Our third giveaway in October is game codes for the first person puzzle game: Obduction. Everyday life is gone. An organic artifact that fell from the heavens inexplicably transports you across the universe. Here you are in a strange place called Hunrath, with pieces of earth scattered within an alien landscape.
What Do I Need To Do To Be Eligible?
Just log in to GFE 3.0 and enjoy! We'll notify select winners via email.
PREVIOUS GIVEAWAYS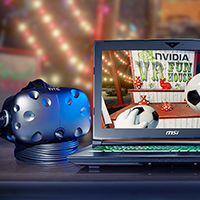 MSI VR Ready Notebooks & HTC Vive Systems