Workforce and Diversity Performance
We report workforce data to our external stakeholders annually. These metrics, combined with employee survey data, help us determine how we can improve in specific areas throughout our enterprise. The data show a diverse, engaged employee base, with a turnover rate well below the industry average
We gather information for this report at the end of the fiscal year, and certain data points below reflect a snapshot of the employee base at that time. The number of employees differs slightly from the figures reported in NVIDIA's 10-K, and the number of interns is lower because we had fewer interns on board at the end of our fiscal year.
Employee Profile
Employee Type by Region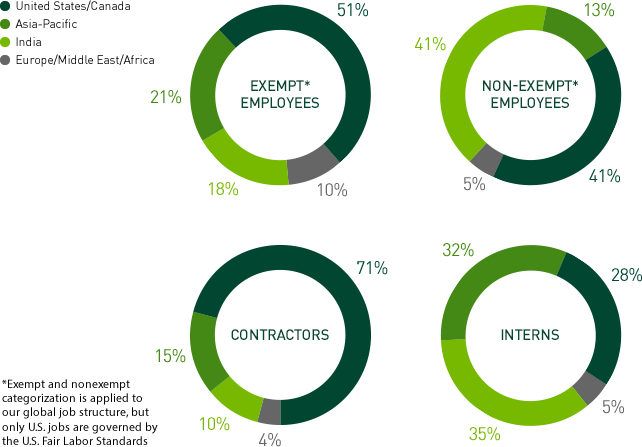 Employee Type by Level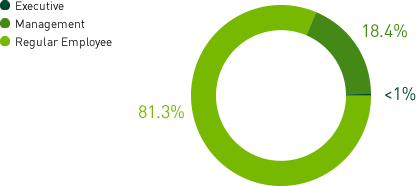 Promotions
In FY15, we promoted approximately 15.73% of our workforce. Of the 1,452 promotions, 34(1.7% percent) were at the level of director or above, 1,200(82.6% percent) were from minority classes, and 223 (15.4% percent) were women.
Diversity
As stated in our Equal Employment Opportunity Policy and Code of Conduct, we are committed to providing equal opportunity to all employees and applicants.
The level of diversity at NVIDIA reflects the technology and engineering industries as a whole. Roughly 72 percent of NVIDIA employees are from technical fields that are historically male-dominated. We seek to address gender imbalances in the technology and engineering fields through programs aimed at increasing the number of women and minorities in engineering. Learn more about our approach to Diversity in the Value Chain Impacts section of this site.
Also, view our 2013 Equal Employment Opportunity report, which we submitted to the United States government.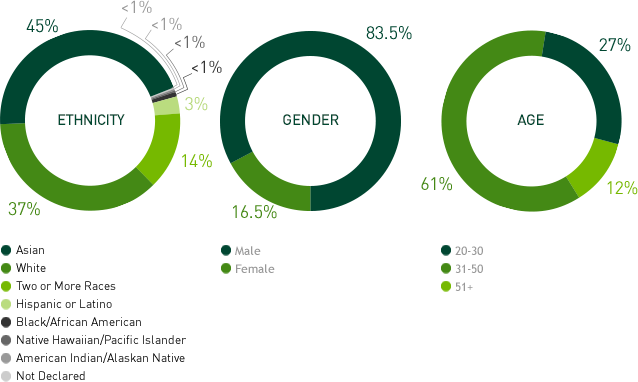 *Self-disclosure of ethnicity is not typical in some countries where we operate.
Employee Gender Data
Female named executive officers
Females in technical roles
*To define 'technical roles' we leveraged the Anita Borg Institute report, Climbing the Technical Ladder, and its definition of core technical workforce for Silicon Valley: "Employees who worked in engineering, software development, information technology and quality assurance."
Permanent Employment Type and Gender
Workforce (Permanent/Contract) Count by Region and Gender
New Hire Data
N. AMERICA / S. AMERICA
509
44.57%
Turnover
In this extremely competitive climate, NVIDIA's turnover remains at 8.7 percent, well below the industry average of 15.1 percent. Our voluntary turnover rate is 7.9 percent, compared with the technology industry average of 9.7 percent.
Annual Turnover
N.AMERICA / S. AMERICA
381
4.21%