Culture and Values
For more than two decades, NVIDIA has pioneered the art and science of visual computing. We're transforming static displays into immersive, interactive experiences for everyone from gamers to scientists, and consumers to enterprise customers.
We've been successful because we're focused and passionate about what we do. We're committed to technology leadership and strive to operate at the highest levels of achievement. Even as we grow, we remain nimble and able to reinvent ourselves to create exciting new capabilities for our customers.
NVIDIA's annual employee survey tells us that our employees feel great pride in the company—87 percent say they are proud to work here. Our corporate culture arises from five core values that provide our foundation for success. These values create workplaces where innovation thrives and mistakes are transformed into opportunities.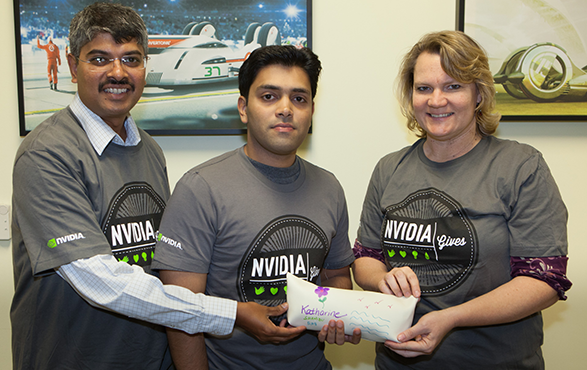 IT Combines Team-Building with Giving Back in Its Annual Challenge for Charity.
Read more
.
Core Values
NVIDIA's core values are:
Innovation: Be willing to take risks
We create products and services that raise the standards of our industry. Some push existing standards to new heights. Some are things people don't yet know they need. We endeavor to delight users and shape the industry.
Speed and Agility: Adapt to a fast-changing world
We adjust internal priorities to match external reality, enabling us to create groundbreaking products at astonishing speed. No politics. No hierarchy stands in the way of inventing the future.
One Team: Do what's best for the company
We foster an environment that motivates our employees, empowering them to work as one integrated team. By putting the interests of the company before our own, we can more easily align around NVIDIA's vision.
Excellence: Hold ourselves to the highest standards
We hire extraordinarily talented individuals across the globe and challenge them to do their best work. We treat each other with candor and respect, and strive for excellence in whatever we do.
Intellectual honesty: Admit mistakes, no ego
We operate at the highest ethical standards. We seek to know ourselves and our capabilities, learn from our mistakes, and continually focus on improvement.
Our Code
We believe that high performance must be grounded in integrity, and thus our professional relationships are guided by a set of standards we call Our Code. These principles govern how we act toward customers, competitors, partners, vendors, government regulators, stockholders, fellow employees, and the larger community.
Our corporate culture resonates with our users, who are uniquely passionate about our products. Many customers express this passion in deeply personal ways, including creating artwork and tattoos based on our logo—and even in naming their children "NVIDIA."