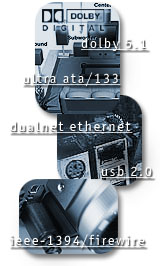 The NVIDIA nForce2 MCP-T
With the introduction of the NVIDIAÒ nForceTM2 media and communications processor-turbo (MCP-T), NVIDIA presents significant advances in PC networking, connectivity and audio functionality. Imagine having the power to create and edit videos, burn CDs with your favorite music, watch high-definition TV or DVDs, and to share it all over a network of PCs—without suffering hits in system performance. The truly networked digital domain is no longer an expensive, out-of-reach dream. With the NVIDIA nForce2 digital media gateway, you can enjoy the ultimate in connectivity, advanced Dolby® Digital 5.1 audio and the only dual Ethernet design available.
Digital Media Gateway features:
IEEE-1394a/FireWire® technology: NVIDIA nForce2 features integrated hardwired IEEE-1394a/FireWire support for quicker uploading and transferring of videos from camcorders and other devices—with no image degradation. IEEE-1394a/FireWire provides a simple, multimedia-oriented, high-bandwidth isochronous interface between computers, peripherals, consumer electronics products such as camcorders, VCRs, printers, PCs, TVs, and digital cameras. NVIDIA nForce2 MCP-T is the first Platform Processor to include ports for both IEEE-1394a/FireWire and USB.
USB 2.0: A standardized plug-and-port combination providing easy-to-use connectivity for USB devices. The solution for anyone who dreams of an instant, no-hassle way to connect a new digital joystick, scanner, set of digital speakers, or digital camera to a PC. With NVIDIA nForce2 you can take advantage of the up to six USB 2.0 ports, an increased bandwidth of 480 Mbps, and smooth online video conferencing and video viewing from all sources. USB 2.0 is compatible with USB 1.1 devices.
Ultra ATA133: The industry's most popular computer storage interface connection. Ultra ATA133 clocks data at 133 MBps, meeting all of your needs for performance without additional cost.
DualNet® technology: The NVIDIA nForce2 MCP-T integrates support for an NVIDIA Ethernet MAC and for a 3Com® Ethernet MAC—allowing a PC to serve as a home gateway, managing traffic between two separate networks and ensuring rapid transfer of data from WAN to LAN without any added arbitration or latency. The NVIDIA nForce2 Platform Processors are the only processors to include this dual design, marking another first for the PC industry.
Advanced audio features: With five digital signal processors (DSPs) dedicated to audio processing—three fixed, two programmable—the NVIDIA nForce APU, part of the MCP-T, surpasses the capabilities of any sound card on the market today.
The NVIDIA nForce2 MCP-T is the most powerful and flexible media and communications processor available. The NVIDIA nForce2 MCP-T simultaneously handles LAN/WAN connections and multiple streams of audio and video from integrated IEEE-1394, USB 2.0, and Ultra ATA/133 ports by using StreamThruTM technology. And it delivers full-featured, high-quality, real-time-encoded Dolby Digital 3D (AC-3) audio via the APU with NVIDIA SoundStormTM audio. The NVIDIA nForce2 MCP-T is truly the center of the digital media gateway.