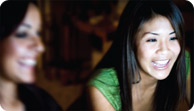 iCafés are a growing business in India where youth in the world's most populous democracy eagerly anticipate the latest game releases but seldom have PCs at home to play them. E-Fun, with seven locations in Gujarat Province in northwest India, six in Ahmedabad and one in nearby Palanpur, and with plans for expansion throughout the country, is typical of Indian iCafés. E-Fun's locations are in residential areas and close to schools and educational institutes, convenient for local youth. E-Fun has 130 PCs across their seven iCafés that are used primarily for playing games by youth from seven to twenty-five years of age.
Challenge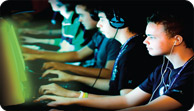 The Indian iCafé market is quite competitive and two strategies are key to success in this fast-growing market. The first is differentiation to attract customers and turn them into regulars. "We differentiate E-Fun from the competition by providing good ambiance; a wide collection of games, snacks and cold drinks; a knowledgeable staff; and the latest technology," says Seema Mandor, director of E-Fun. The second strategy is cost containment. Keeping costs down allows more capital for expansion in the wide open Indian market. The challenge comes in reconciling these two, investing in differentiation while trying to contain costs.
solution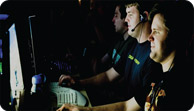 "We are very happy with NVIDIA's graphics technology and with the support provided by their team. And NVIDIA's SLI-Ready technology will reduce the system upgrade cycle in all our E-Fun locations."
Seema Mandora,
Director, E-Fun
E-Fun has discovered, however, that NVIDIA® technology can help with both these strategies. 120 of E-Fun's 130 PCs are outfitted with NVIDIA GeForce® 7 Series GPUs, creating a key advertising and promotional point, attracting gamers who want to play the latest available games on the most powerful GPUs. And with NVIDIA SLI™-Ready PCs, E-Fun expects to save money when it comes time to upgrade their systems and help maintain their technical differentiation.
Beginning in April 2007, E-Fun began equipping their iCafés with SLI-Ready PCs featuring an NVIDIA nForce® 650i motherboard from ASUS and a single GeForce 7600 GS graphics card. When it comes time to upgrade the PCs, E-Fun will double up the GeForce 7600 GS cards in half the SLI-Ready machines and equip the other half with the latest NVIDIA GPU. Both the PCs with dual GeForce 7 Series GPUs and those with single, next-generation GPUs will remain powerful gaming platforms, offering excellent performance on the latest games, but the amount E-Fun will have to spend to keep these systems competitive will be substantially less.
Impact
Bill Villarreal, Vice President of Technology at Imageworks, stated: "When we are in the final stretch of delivering a big show like Spider-Man 3, we have to depend on the high quality and exceptional performance of every aspect of our production pipeline. This is especially true for our hardware systems. From artists' workstations to our high-resolution playback systems, NVIDIA graphics are prevalent throughout our facility and have consistently provided us with the quality, performance, and support we need to deliver the incredible imagery Imageworks is known for, to audiences around the world."