Delta Tracing Reinvents Itself with NVIDIA iray and NVIDIA GPUs
Back in 2009, the global economic recession compelled virtually all companies to reassess their business. Budgets for many products and services declined or disappeared altogether. Customers altered their buying patterns and preferences. What were once proven business strategies required complete reevaluation.
Companies unable to adjust to the new economic realities suffered, while some managed to prosper – in many cases, thanks to the breakthroughs in GPU technologies. In particular, advanced photorealistic rendering technologies – which slash rendering times while boosting both realism and ease of use – are enabling companies in a variety of industries to accelerate processes, increase productivity, and improve the quality of their offerings to pull away from their competition.
Clint Eastwood's character, Gunnery Sergeant Thomas Highway quipped in the 1986 film "Heartbreak Ridge," "You adapt. You overcome. You improvise."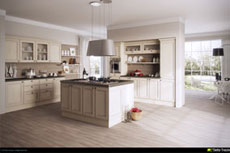 And that's exactly what Delta Tracing did – a company that didn't just survive the recession, but has since prospered. In business since 1999, this Venice, Italy-based professional design studio had made a name for itself producing high-quality 3D visualizations for architects. When the building industry declined in 2009, so did demand for the company's sophisticated architectural renderings and animations. Capitalizing on its deep expertise in rendering and visualization, Delta Tracing leveraged NVIDIA® CUDA™-powered tools such as the NVIDIA iray® renderer within Autodesk 3ds Max software to refocus its business and rapidly produce photorealistic images for the interior design and furniture industries.
"When cut-backs in the building industry meant our existing clients could no longer afford our services, we had to find another market working at the same level or even higher – and I saw the furniture market as that next step for us," says Dionissios Tsangaropoulos, founder and CEO of Delta Tracing. "The NVIDIA-based technologies, notably the iray rendering technology, allowed us to transfer our skills to a healthy market where our expertise could make a real difference."
Using NVIDIA technology to do more in less time
Delta Tracing took advantage of a convergence in technological advances to adapt to and overcome economic realities, improvise, and reinvent its business, beginning with the introduction of NVIDIA iray in Autodesk 3ds Max.
"In the past, each rendering of a photorealistic test image took more than 40 minutes, so it might take a whole day of test images to produce something we could show to a client," says Tsangaropoulos. "Using iray meant a new revolution for our company. Now, the same production takes only 15 minutes – with higher quality, but more importantly, you can get a good visual feedback in about 20 seconds. So now we can do multiple tests, do a fully rendered image, and get client approval in about half the time it used to take to do a single test image."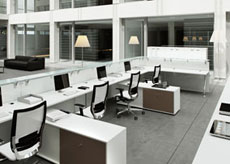 In addition to its very advanced physically correct light simulation algorithms, iray is massively accelerated by the NVIDIA CUDA architecture. Delta Tracing uses professional, CUDA-enabled NVIDIA Quadro® and Tesla™ GPUs for iray, which tremendously accelerates their creative process. While their 3ds Max creation seats use a combination of Quadro and Tesla boards, their dedicated rendering system sports eight Tesla C2050 boards for producing iray renderings from 3ds Max at maximum speed.
The iray and NVIDIA GPU system also produces high-resolution final images of stunning realism much faster. Doing 40 high-resolution images for a furniture brochure used to take close to 10 days; Delta Tracing can now deliver those same 40 images in two and a half days.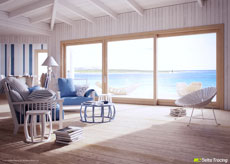 "Because of iray and NVIDIA GPUs, we are doing very well now," says Tsangaropoulos.
"This accelerated technology has opened new opportunities, allowing us to explore more creative ideas in less time and producing high-res images much faster.
In the first month of 2011, we had already completed the same amount of work it took us all of 2010 to do. As a result, we can now bring in far more production work. I estimate it would take a company like ours a month or two, at the most, to recoup our full investment in our NVIDIA systems."
Empowering the furniture design process
Delta Tracing's clients in the furniture design industry also are benefitting from the improved rendering speed and quality. Furniture manufacturers pre-sell much of their inventory based on high-end brochures of their offerings. Using rendered images typically costs less than taking photographs, which involve building physical sets, complete with materials such as marble floors and wood trim on the walls, as well as moving large pieces of furniture and appliances in and out of the sets.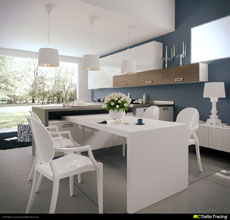 "With iray renderings, furniture designers can create articles that would be impossible or prohibitively expensive to build in the real world," says Tsangaropoulos. "They can reuse the same background with different furniture, change the materials of the background set, and sell furniture before even a prototype exists, which provides better numbers for production. Everything is possible, at less cost, with photorealistic results."
The furniture manufacturers bring Delta Tracing the technical specs for new lines of furniture along with 2D drawings. From this information, Delta Tracing builds accurate models of the furniture, along with entire rooms in which to place the furniture, that are then rendered by iray – all within Autodesk 3ds Max.
"We build perfect models in 3D, and we incorporate our expertise to help decide the best lighting, color, materials, and other artistic issues," says Tsangaropoulos. "For instance, we decide if the room showcasing the furniture should be in daylight with light streaming through the window, or candlelight, or incandescent light – and how that plays off various materials on the furniture, such as shiny laminated zebra wood, or metallic accents, or a matte painted finish."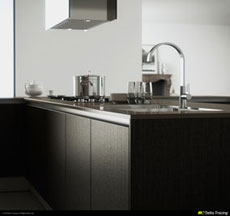 Throughout its twelve-plus years in business, Delta Tracing has earned a reputation for its high-quality renderings and artistic expertise. Its ability to change course and succeed in response to tough market conditions is a testament to both its founder's creativity and the technology tools the company has effectively deployed.
"Delta Tracing is a famous rendering brand in Europe, especially in design-conscious Italy, because of our high-quality images and our artistic sensibilities," says Tsangaropoulos. "Now that we can produce even better-quality images so much faster, we are achieving new levels of success. And this is only the start of the potential of what's still a very young technology. As we and other companies in the rendering industry understand more about how to take advantage of iray and GPU processing, I can't even imagine what's going to happen in the next few years."
"You adapt. You overcome. You improvise." Delta Tracing did. Gunny Highway would be darn proud.
Images created using NVIDIA iray, courtesy of Delta Tracing