NVIDIA Quadro Powers Prime Focus 3D Stereo Projection Pipeline for Clash of the Titans
There is continuing evidence most everywhere you turn that 3D movies are capturing the public's imagination. As illustrated by the recent box office successes of "Avatar" and "Alice in Wonderland," audiences continue to clamor for 3D movies. Movie studios and theatergoers worldwide have spent millions of dollars in recent months to immerse themselves in the 3D experience.
Challenge
Hollywood is responding with over 20 3D films due for release through the rest of 2010 alone. This appetite for 3D is placing greater demand than ever on top visual effects (VFX) companies to support development of 3D film and TV content.
One of those companies is Prime Focus, which recently needed to outfit its Hollywood facility with an updated 3D projection pipeline to support the conversion of Warner Bros.' "Clash of the Titans" in less than 10 weeks.
In order to create a 3D version of the movie, Prime Focus required a solution that would be able to output a high-definition, serial digital interface (HD-SDI) 3D stream, and quickly enable high quality reviews of 3D work in progress for its artists and visual effects supervisors. As an artist-driven process, Prime Focus' proprietary, patent-pending View-D™ 3D conversion pipeline relies on artists' ability to collaborate closely and effectively with the filmmaking team.
Solution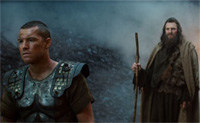 Photo Courtesy of Warner Bros. Pictures
Enter NVIDIA. Leveraging NVIDIA Quadro graphics processing unit (GPU) technology, the View-D team was able to facilitate fast, high-quality reviews of 3D work.
Prime Focus set up a pipeline to enable 3D SDI video routing for workstations equipped with Quadro professional graphics solutions. The facility's 3D playback systems could route streams of 3D content to three different projection rooms in the facility at any given time. The team used IRIDAS Framecycler to playback review files and conform reels. IRIDAS is a company that pioneered the first, real-time color grading solution released based on NVIDIA Quadro professional graphics, and was one of the first systems to provide real-time debayering as well as Stereo 3D support. Having Framecycler accelerated for NVIDIA Quadro, the team at Prime Focus was able to make convergence and parallax adjustments on the fly to reflect director and artist review input.
Impact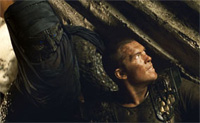 Photo Courtesy of Warner Bros. Pictures
The designer of the Prime Focus 3D projection pipeline, Sean Konrad, explained, "With the NVIDIA Quadro SDI platform, while clients were reviewing in one room, we could have internal stereographers review shots on another projector in a different room. We could simultaneously set convergence and make adjustments while an editor worked on conforming shots in another screening room. The NVIDIA-based pipeline allowed us to do a lot of multitasking throughout the facility — this was absolutely critical, since we were pushing about 20 minutes of stereo shots through the pipeline every day."
Konrad continued, "A lot of the success of our process depends on iterating often, and viewing stereo material in as high quality as possible. The more often we could get clients, editors, internal stereographers and lead artists in front of the material, the more we were able to advance the direction, because with stereo 3D there are an infinite number of directions you can go in. Having something tangible and visible in the best possible medium was really important, and that's what NVIDIA Quadro gives us."
"Stereoscopic 3D delivers an amazing interactive experience to audiences, but it also adds a dimension of complexity to visual effects and post-production workflows," said Dominick Spina, digital film technology manager at NVIDIA. "The NVIDIA Quadro Digital Video Pipeline with HD-SDI input and output provides comprehensive, flexible and cost-effective technology that companies can use to create breakthrough 3D movies and other 3D content."
"Clash of the Titans" opened in both 2D and 3D on April 2 and was the first, full-length feature film stereo 3D conversion project utilizing Prime Focus' View-D process. Prime Focus has several additional 2D-to-3D film and television conversion projects in the pipe, and anticipates utilizing similar 3D projection pipelines at facilities in London, Vancouver and Mumbai.