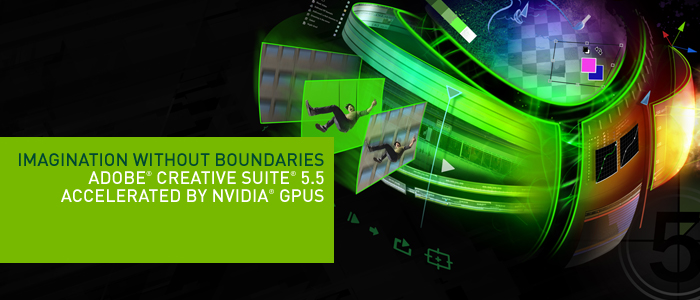 You're a creative genius. So let your ideas flow


Unlock the power of Adobe® Creative Suite® 5.5 software with NVIDIA® GPUs and get blazing-fast performance and smooth, fluid interactivity.

If you're a creative artist, designer, or video professional, you can accelerate your full post production workflow and infuse your project with creative inspiration with NVIDIA Quadro® and now workstations equipped with new NVIDIA® Maximus™ technology in workstations that include both Quadro and NVIDIA® Tesla™ GPUs for maximum performance with Adobe CS5.5.

Adobe

®

Premiere

®

Pro CS5.5

Get an amazingly fluid, real-time video editing experience with the Adobe

®

Mercury Playback Engine, based on NVIDIA

®

CUDA™ technology, featured in the newly released Adobe

®

Premiere

®

Pro CS5.5.

>

Learn More

Adobe

®

After Effects

®

CS5.5

Create and design using real-time, NVIDIA GPU-accelerated visual effects in Adobe

®

After Effects CS5.5.

>

Learn More

Adobe

®

Photoshop

®

CS5

Now more than ever, you can connect with the digital canvas in a natural way. Experience a new level of interactivity while navigating through large images, retouching photos, or experimenting with effects.

>

Learn More
NVIDIA Quadro and Tesla Graphics Cards
Create with confidence using NVIDIA Quadro and Tesla Graphics Cards
Meet the tightest deadlines and most stringent budgets using Quadro and Tesla graphics cards. These GPUs offer faster performance with superior image quality and provide a fully integrated and optimized workflow across the spectrum of Adobe Creative Suite 5.5 applications.

Quadro Features


>

Easily integrate project files from After Effects and Photoshop into Premiere Pro and edit in real-time.


>

Experience rich, vivid image quality with the broadest dynamic range with 30-bit color fidelity
(10-bits per color) and easily span across multiple ultra-high resolution displays, including SDI monitors
and projectors.*


>

Immerse yourself in a true stereoscopic 3D, collaborative visualization experience, and see remarkable
detail with NVIDIA® 3D Vision™ Pro solutions


>

Designed by NVIDIA, built by NVIDIA, and directly supported by NVIDIA and an extended three year warranty.


Featured GPU-Accelerated Adobe Plugins
* SDI available with Quadro SDI-enabled GPUs and Quadro Digital Video Pipeline solutions.