Brainstorm provides open solutions and real-time graphic presentations for virtual set, election graphics, weather, news, sports, and corporate presentations.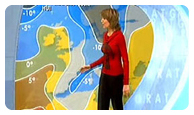 Brainstorm eStudio solutions combine an open architecture and NVIDIA graphics with NVIDIA PureVideo technology.

3D graphics must be interfaced to external data, presented in corporate presentations, displayed in changing graphical form, or linked to a database. Virtual sets must also be created in the most efficient and least costly way.











Brainstorm creates on-air broadcast graphics and presentations using its own software and combines the system with NVIDIA® graphics and NVIDIA PureVideo™ technology to achieve the best possible results.



Brainstorm delivers both SD and HD formats in a single low-cost solution, giving customers the fastest real-time broadcast-quality graphics on a PC—fast enough to generate reflections, complex textures, and shadows during live data streaming.
More Information
For more information on Brainstorm Multimedia, please visit: www.brainstorm.es
Images courtesy of Brainstorm Multimedia.