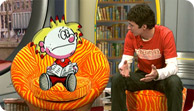 Blue Space Media is a service provider specialising in 'virtual studio' services, expertise and technologies. Founded in 1997, it has bases around Germany with facilities including extensive blue- and greenbox studio space, access to live TV production services and rendering capabilities.
The company uses various digital effects technologies, driven by NVIDIA hardware, to create complex virtual studio environments in which live action can be integrated with a 3D digital backdrop for real-time broadcast. In addition, Blue Space specialises in cutting-edge live TV interaction techniques, from in-studio audience participation to remote gaming via SMS and many other electronic devices.
Challenge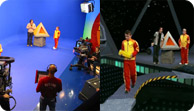 Blue Space helps children's TV channel KI.KA to create exciting shows in which participants can interact with a detailed virtual world, rendered in real-time by NVIDIA Quadro®.
As one of just a handful of independent virtual studio service providers in the German speaking world, Blue Space relies on the ability to deliver high quality, innovative services to its customers at a competitive price.
In this highly specialised industry, managing costs can be extremely challenging. When Blue Space first had the opportunity to work with Erfurt-based public TV station Kinderkanal (KI.KA), it needed to address the issues of expensive specialist equipment and the associated high labour costs.
Solution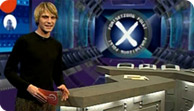 As former students of media technologies and gaming enthusiasts, Blue Space's Carl Wilhelm Ihne and Thomas Knop had recognised the potential of PC technology to replace the specialist computers usually selected for such rendering-intensive processes.
Carl Wilhelm Ihne explains: "When we first made the move to PCs in year 2000, graphics processing units (GPUs) had just made the breakthrough as a viable alternative for professional graphics. We chose NVIDIA hardware because it was and remains the market leader in this sector. Its competitors just couldn't offer us the same level of features, functionality and raw power that NVIDIA provides.
"The work we do involves a high level of 3D graphics processing power, and developments in the TV industry mean this is increasing all the time. High Definition broadcasting is much more demanding than analogue TV, so we have to achieve a high quality image with increasing levels of visual effects as well as a consistently high frame rate for HD content. NVIDIA Quadro workstation products allow us to do this."
Impact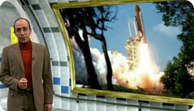 By choosing to use PC-based GPU technology, Blue Space is able to provide high quality real-time rendered environments at a fraction of the cost incurred by operating with specialist computer systems. The company is also able to access a much larger pool of talented technicians working on the PC platform.
"NVIDIA has been very responsive to our specific needs and consistently delivered products which meet them," says Carl Wilhelm Ihne. "For example, the NVIDIA Quadro 4500 incorporates a serial digital interface (SDI) solution which directly outputs uncompressed SDI video for broadcast, enabling us to save around €10,000+ per unit on additional conversion hardware."
In Erfurt Blue Space is working particularly closely with KI.KA to create original children's programmes. "Our PC-based systems allow a high level of compatibility with the many different components which make up the virtual studio facility, helping to keep costs down and encouraging imaginative interaction devices," says Thomas Knop. "Our highly detailed virtual studio graphics also mean programme makers can develop immersive and exciting shows which are really popular with their young audience.
"Our customers are creating innovative, cost effective programmes and Blue Space's virtual studio services, driven by NVIDIA, make this possible."