NVIDIA Success Story


---

NVIDIA and Big Bear Entertainment: Latest 3D technology powers the convergence of TV, music and video games.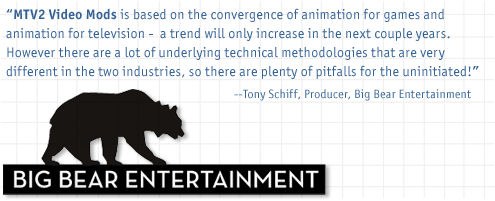 Background: Animation for games and animation for television are looking much the same to the average viewer these days. Big Bear Entertainment's technological expertise and the latest NVIDIA hardware are helping to bridge the gap as these two content formats continue to converge.

Challenge: Each set of art assets comes from a different development team, and are made to different specifications. Big Bear Entertainment had to adapt their approach on a case-by-case basis. This project dealt with large data sets, a wide variety of character rigs, multiple lighting setups per video and a vast amount of motion capture – produced on a very tight budget.

Solution: A production pipeline that allowed for a flexible approach to the creative process was a must. The hardware used would need to support a wide range of software and tools required to take on a project of this magnitude. There's no one way, or one solution to address the problem, because the raw material - the art assets - were so diverse, as is the creative in each video.

Benefits: The performance and accessibility of NVIDIA Quadro FX 3000 based workstations allow studios like Big Bear Entertainment to take on projects of this scope. An animation team with their experience in both music video and video game production can find new and innovative ways to harness the capabilities of their hardware and software to turn out projects of this quality in record time.



These days, it can be pretty hard to tell the difference between a music video and a video game. Now the folks at MTV2, the 24-hour music network, have come up with an innovative to combine the two, remixing the video game characters and today's hottest music videos into one entirely new music viewing experience: Video Mods.

Video Mods music videos feature the characters from latest video games, such as Tribes: Vengeance, BloodRayne 2, Fight Club, and Sims 2, while integrating the gameplay environments found in these games. The half-hour episodes of MTV2 Video Mods showcase some of today's most popular video games as their characters perform in videos from a variety artists of and genres. In the first episode, Video Mods showcased Lil Jon's hit music video "Get Low" recreated using the video game Fight Club; Evanescence's "Everybody's Fool" recreated by BloodRayne 2; the Fountains of Wayne's hit "Stacey's Mom" featuring the Sims 2; and the Von Bondies video "Cmon Cmon" recreated by Tribes: Vengeance.



The task of creating these new videos fell to the animation team at Big Bear Entertainment. (BBE) A production of this nature requires a great deal of creative flexibility, music video production experience, and a powerful set of tools to get the job done. The artists from BBE provided the technical expertise, while NVIDIA Quadro FX-based workstations with AMD processors delivered the hardware that powers the many software tools required for a project of this magnitude.

While editing the music for each of these videos is rather straightforward, working with the various video game assets to create the new visuals was quite a different story. Each set of art assets comes from a different (game) development team, and are made to different specifications, depending on that team's production pipeline. BBE had to adapt their approach on a case-by-case basis due to the large set pieces, a wide variety of character rigs, multiple lighting setups per video and a vast amount of motion capture. And of course, this all had to be accomplished on a very tight budget.

"Lots of late nights and weekends were put in by every person on our animation team," said Tony Schiff, Producer, Big Bear Entertainment. "A flexible approach to the creative process is also required in the real world of music video production. This case was no different."

Even so, the project's success weighed heavily on the team's fifteen years of production experience in music videos - knowing how to change creative on a moments notice. Add to the mix a few experienced games artists and television animators sitting in the same room throwing ideas around on a daily basis - taking pages out of each industry's book. In the end, you have a project that had never been attempted before delivered to MTV2 on time and on budget.



The Video Mods debuted on September 18th with the four videos mentioned above. BBE has put together 3 new episodes of Video Mods for MTV2 to date, comprising 12 original videos. Pre-production kicked off in April 2004, with production in June, wrapping up in September—an awfully aggressive schedule for a first-of-its-kind project of this scope. In addition to this initial project, BBE is using the same hardware and software to make an original video for MTV's "Choose or Lose" voting campaign, featuring characters from diverse games such as the Sims 2, Unreal, Mortal Kombat, Crash Bandicoot, Tony Hawk, and Sonic.

Video game companies are not alone in bringing their characters to these videos. In fact, NVIDIA has long been known for their characters created over the years to demonstrate the capabilities of 3D graphics hardware. Dawn, Dusk, and Vulcan are three NVIDIA demo characters who star in the Evanescence "Bring Me To Life" video that will appear in one of the Video Mods episodes.

BBE rely heavily on their "tools", both hardware and software, to get their work done this efficiently. NVIDIA Quadro FX workstations enabled BBE to deliver on the quality MTV2 - and their audience - expects. These systems included dual AMD Opteron processors, NVIDIA Quadro FX 3000 boards, running on Windows XP. BBE needed this horsepower considering all the software applications they were using, including Alias Maya, Discreet 3ds max, Kaydara MOTIONBUILDER, Maxon Cinema 4D, and various other plug-ins.



Workstation PCs have become incredibly powerful over the last few years with a variety of tools and software designed to make the most of there advanced capabilities. The Video Mods series was done for a fraction of what it would have cost five, or even three, years ago. Graphics hardware represents are a large part of that advance. Music videos are a graphic medium and being able to turn out a large volume of videos in a short period of time, with a small team, is only possible with all the hardware and software that a small company can now access.

The many different game and video assets meant that there would be no one way, or solution, to produce these videos. The hardware needed to be able to support the wide range of software that was required to handle these issues. NVIDIA Quadro products are tested and certified to work with the various applications used by BBE on the project, as well as many others that might be needed over the life of the project.

The NVIDIA Quadro FX 3000 boards let BBE artists move and manipulate the huge files and graphical assets around quickly rather than having to spend a lot of time waiting on the hardware to process all this data. Instead of being bogged down during the creative process, the animation team was able to focus on making things look good. The animators really appreciate being able to spend their time animating and not watching their animations load on the screen. The end product would have been severely limited by lesser equipment.



The first episode of Video Mods aired Saturday September 18 on MTV2, which reaches more than 60 million homes. There will a new episode each two weeks thereafter, plus a fourth "Best Of" episode. For complete information on MTV2 "Video Mods" visit www.MTV2.com. There fans will get to see each video in its entirety after it appears on the show, plus listen MTV2.com's video game radio, playing music featured in today's hottest games, and on the soundtracks of video game inspired movies.

MTV2 "Video Mods" is produced by Tony Shiff and Big Bear Entertainment. In upcoming episodes, MTV2 "Video Mods" will also present videos by the Black Eyed Peas, New Found Glory, The Darkness, Christina Milian, Ying Yang Twins and The Vines. Each video will be transformed, sometimes literally, sometimes with a completely new creative concept, by adapting the music video using a unique video game environment and featuring characters from one, or often a variety of video games. Additional games featured in upcoming episodes include SSX 3, Outlaw Golf 2, Jade Empire, Fight Night and Leisure Suit Larry: Magna Cum Laude.



For more information about NVIDIA solutions, please visit: //www.nvidia.in
For more information about Big Bear Entertainment, please visit: //www.bigbearent.com
For more information about the MTV2 "Video Mods" program, please visit: //www.mtv.com/onair/dyn/video_mods/series.jhtml