>
>
>
>
Adobe Premiere Pro Creative Cloud



DO YOUR BEST WORK, FASTER,
WITH REAL-TIME VIDEO EDITING
Adobe° Premiere° Pro CC is a modern video editing application that leverages NVIDIA GPUs for industry-leading native file format support, including 4K and High Dynamic Range media. The GPU-accelerated Adobe Mercury Playback Engine, co-developed by Adobe and NVIDIA, uses NVIDIA GPUs and the NVIDIA® CUDA® Parallel Computing Platform to deliver interactive, real-time editing and up to 56x faster performance on final rendered exports.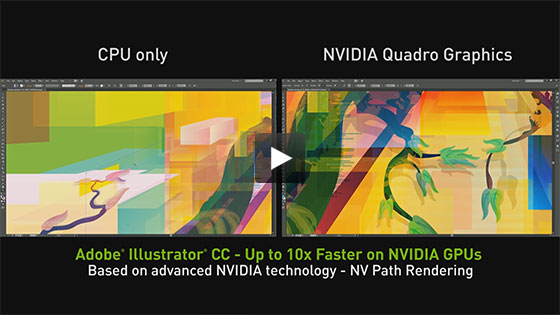 KEY NVIDIA GPU-ACCELERATED features in ADOBE PREMIERE PRO CC
Premiere Pro CC gets a significant boost with NVIDIA GPUs, giving video editors a faster, more fluid and intuitive workflow. GPU-accelerated features include GPU debayering for quick RED media playback, smooth interaction with the Lumetri Deep Color Engine, and an amazing automated transition feature with Morph Cuts.
Plus, with the new GPU-accelerated VR mode in Premiere Pro CC, editors can now preview and edit 360-degree footage more naturally with the ability to pan, tilt, and click-drag directly on a VR video clip. This feature is built within Adobe's existing GPU-accelerated pipeline, making the experience as fast and interactive as possible. The new VR mode also complements advanced GPU-accelerated VR tools like the Mettle SkyBox 360|VR plug-ins.

Demo: Boost performance on Lumetri Deep Color Engine (00:38)
Mac Optimisations
CUDA performance optimisations for NVIDIA-accelerated Macs, providing up to 40% faster Premiere Pro performance vs out-of-the box configuration. Simply upgrade to the NVIDIA CUDA driver, and get speed for free.
Adobe Anywhere Integration
Premiere Pro is the key element integrated into Adobe Anywhere. The NVIDIA Tesla-accelerated collaborative video workflow platform lets video editors, visual effects artists, and other creative pros work together seamlessly using centralized media and assets across virtually any network. Learn more.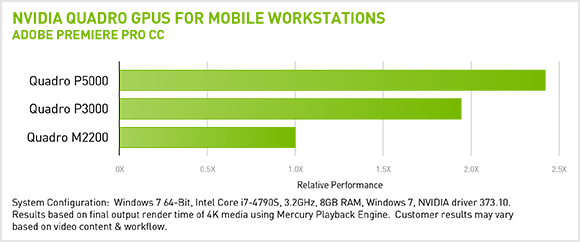 ¹ Compared with dual Intel Xeon E5 2687W 3.10GHz CPUs (16 total cores)
*Quadro Performance Driver available for download now. Final performance will depend on system configuration, content, and user workflow.
Premiere Pro CC

Adobe CC Solution Overview

(PDF 564 KB)
Recommended NVIDIA GPUs
Best
Multi-GPU (2x Quadro P6000)
Better
Quadro P5000
Good
Quadro M2000
Best
Quadro P5000 / Quadro M5500
Better
Quadro P3000
Good
Quadro M2200