>
>
>
>
Lightroom Creative Cloud



Take your best shot with Adobe® Lightroom CC and NVIDIA GPUs
Adobe Lightroom CC is lightning-fast when using NVIDIA GPUs for high-quality photo editing. The Develop module is now fully GPU-accelerated, enabling over 30 times faster performance* for stunning photographic creations. This is especially effective for the latest 4K and 5K monitors that professional photographers prefer. Whether you're leading a professional photo shoot or capturing amazing action shots on the sidelines of your kid's soccer game, you can now make Lightroom CC work better and faster with NVIDIA GPUs.
Learn more about Lightroom CC and NVIDIA GPU acceleration. Check out how NVIDIA GPUs compare to CPUs when editing in Adobe Lightroom.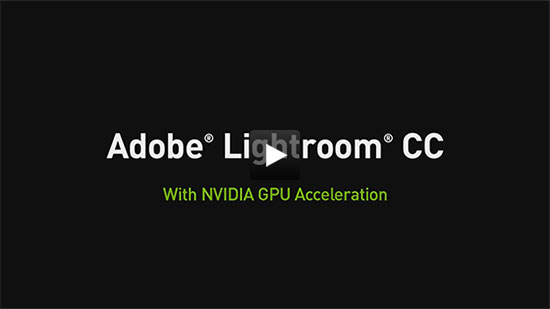 *Test based on NVIDIA Quadro K2200 GPU speed advantage vs. dual Intel Xeon W5580 CPUs when using radial mask and white balance adjustments on a 4K monitor.
Lightroom CC


Optimising Hardware Systems for Adobe
®
Creative Cloud.

Download White Paper >

Adobe CC Solution Overview

(PDF 564 KB)
Recommended NVIDIA GPUs