>
>
>
About The NVIDIA Foundation
About the NVIDIA Foundation



Employee-driven initiatives benefit local communities
NVIDIANs believe strongly in supporting the communities we live and do business in. We encourage our employees to use their time and talent to identify and execute innovative, effective community-based charitable programs, and we work to amplify the impact of these programs by applying company resources and collaborating with business partners. This work is accomplished through the NVIDIA Foundation.
About the NVIDIA Foundation
Take a look at what makes the NVIDIA Foundation unique. You'll learn about which causes are most important to us and why our employees are passionate about giving back to their communities.

Strategies
Our current focus is to accelerate solutions to critical issues in global health and education. We leverage our employees, partners, technology and financial resources to advance the fight against cancer and help youth excel in learning.
Focus Areas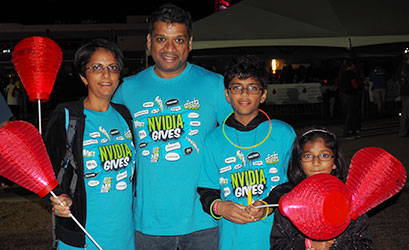 Fighting Cancer
Compute the Cure
, our strategic philanthropic program, aims to advance the fight against cancer through grants and employee engagement initiatives. We fund cancer researchers using innovative computing methods to accelerate their work and nonprofit organizations providing patient care and services. Offices around the world hold events engaging employees in raising funds for cancer-focused organizations.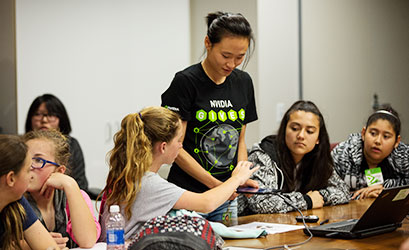 Improving Education
Our education initiatives give K-12 students the tools and skills they need to succeed. We offer opportunities to underserved and underrepresented youth, strive to improve math and science education, and inspire youth to enter occupations requiring science, technology, engineering, and math (STEM) skills. Our annual
Project Inspire
physically transforms schools in low-income areas.