Product PR:
Varun Dubey
Product PR Manager - India
Tel: +91 9960611026
vdubey@nvidia.com
FOR IMMEDIATE RELEASE
NVIDIA And Windows Vista Deliver Outstanding New 3D Computing Experience
NVIDIA Offers Consumers the Widest Selection of Windows Vista-Certified Graphics Processors and Motherboards
SANTA CLARA, CA—JANUARY 30, 2007—Today's launch of Microsoft Windows Vista marks the first time that a major operating system requires a graphics processing unit (GPU) for the best experience. In fact, both The New York Times and CNET Networks have reported that Windows Vista requires a graphics processor, while USA Today noted that, "To use Vista's slick graphical interface, users need a sophisticated graphics card."
To meet the needs of enterprise and consumer PC users, NVIDIA Corporation (Nasdaq: NVDA) has certified the industry's broadest range of GPUs and media and communications processors (MCPs) to be Windows Vista Ready. NVIDIA is the only graphics company with four generations of GPUs and MCPs to be certified by Microsoft to be Windows Vista Premium Ready, and the only graphics company to release Microsoft DirectX 10-capable GPUs. For consumers, this means a stellar out-of-the-box experience with Windows Vista driven by the NVIDIA hardware inside the PC.
"Windows Vista features a beautiful new 3D interface that dramatically improves the computing experience," said Rob Csongor, vice president of corporate marketing at NVIDIA. "Vista's Aero Glass, Flip 3D, Windows Vista Photo Explorer, and Vista's rich media capabilities are actually accelerated with an NVIDIA graphics processor. In addition, a host of popular applications including Microsoft 3D Maps, Picasa, Zinio, PowerDVD HD, and Adobe Acrobat also take advantage of a graphics processor. Every user who plans to build or buy a new PC now should be sure to include a graphics processor in their system."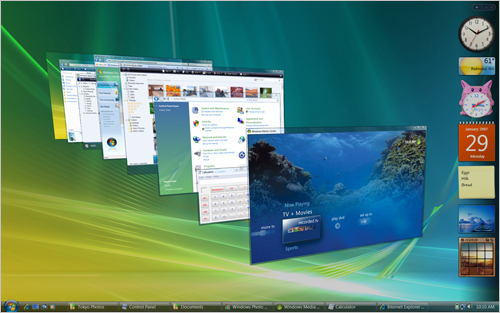 "Microsoft has worked closely with NVIDIA to ensure that NVIDIA GPUs are excellent Windows Vista-ready solutions," said Anantha Kancherla, principal group program manager at Microsoft. "In addition, NVIDIA's work with DirectX 10 has resulted in outstanding GPUs that will exceed gamers' needs for the next generation."
Every leading computer manufacturer now offers NVIDIA-powered Vista-Ready PCs, including Dell, HP, and Gateway. Vista-capable NVIDIA-powered PCs start at just $359.
With more than 100 different Windows Vista-Ready GPUs and MCPs available in the marketplace, NVIDIA is ready to support consumers looking to either buy a brand new PC or upgrade their current PC to Windows Vista. NVIDIA is currently providing Windows Hardware Quality Labs (WHQL) certified drivers for many of these products to Windows Vista PC manufacturers and directly to consumers at www.nvidia.co.in.
In addition to the support provided for Windows Vista through its GPU and MCP products, NVIDIA is also extending the Vista experience beyond the PC with the NVIDIA Preface platform. NVIDIA Preface is a secondary display subsystem that gives users access to Windows Gadgets and information from their notebook or PC, even when the main system is powered down. Windows Gadgets are applications that display specific kinds of information, such as a clock, calendar, stock quotes, or weather. They can run on the desktop in the Windows Vista Sidebar, or on an auxiliary display such as those powered by the NVIDIA Preface platform.
The latest version of the NVIDIA Preface platform includes wireless capabilities for manufacturers of handheld devices who want to provide customers the full benefits of Windows SideShow, a new feature of Windows Vista, while away from their computer or on the move.
Windows Vista also marks the debut of Microsoft DirectX 10. The NVIDIA GeForce 8800 is the only DirectX 10 GPU available in concert with Windows Vista, and GeForce 8800 GPUs are the choice of DirectX 10 application developers as they create and test groundbreaking next-generation content.
Several of the most anticipated titles for 2007—including Crysis (published by Electronic Arts), Supreme Commander (THQ), Hellgate London (EA/Namco), and Age of Conan: Hyborian Adventures (Funcom)—are designed on NVIDIA hardware and will exploit the new features of DirectX 10.
"The PC's future has never been brighter," said Chris Taylor of Gas Powered Games, the developer of Supreme Commander. "When you combine the architecture of Microsoft's DirectX 10 and the insanely powerful NVIDIA graphics technology, you set the stage to make the PC a gaming platform unlike anything the world has ever seen before. Now we have the ability to play games at outrageous resolutions like 2560x1600—on two monitors at once! And that technology is available right now, today, with the NVIDIA GeForce 8800 and Windows."
"NVIDIA has made a huge difference in the performance and visual quality of Hellgate: London," said Bill Roper, CEO of Flagship Studios. "NVIDIA engineers provided us with pre-release versions of their incredible DirectX 10 graphics cards to help us develop our game. When you play Hellgate: London on an 8-series NVIDIA graphics card, you can see all the power and the glory of our world. The GeForce 8800's graphics capabilities are unrivaled."
For more details and to see how to configure a new PC or upgrade a current PC for Windows Vista, visit www.microsoft.com/windowsvista/getready.
About NVIDIA
NVIDIA Corporation is the worldwide leader in programmable graphics processor technologies. The Company creates innovative, industry-changing products for computing, consumer electronics, and mobile devices. NVIDIA is headquartered in Santa Clara, CA and has offices throughout Asia, Europe, and the Americas. For more information, visit www.nvidia.in.
Certain statements in this press release including, but not limited to, statements as to NVIDIA GeForce 8 GPUs and nForce 600i SLI MCPs, Microsoft Windows Vista and DirectX 10, the progression of game development, and the benefits of manufacturing motherboards are forward-looking statements that are subject to risks and uncertainties that could cause results to be materially different than expectations. Important factors that could cause actual results to differ materially include: delays in ramping new products into production, market or customer acceptance of a competitor's product or technology instead of ours; software or manufacturing defects; our reliance on third party manufacturers; development of more effective or efficient GPUs or MCPs; the impact of technological development and competition; general industry trends; changes in industry standards as well as other factors detailed from time to time in the reports NVIDIA files with the Securities and Exchange Commission including its Form 10-Q for the quarter ended April 30, 2006. Copies of reports filed with the SEC are posted on our Web site and are available from NVIDIA without charge. These forward-looking statements are not guarantees of future performance and speak only as of the date hereof, and, except as required by law, NVIDIA disclaims any obligation to update these forward-looking statements to reflect future events or circumstances.