New NVIDIA Quadro® Fx 3500m Graphics Solution Redefines Mobile Workstation Performance And Capabilities
Product PR:
Varun Dubey
Product PR Manager - India
Tel: +91 9960611026
vdubey@nvidia.com
FOR IMMEDIATE RELEASE
New NVIDIA Quadro® Fx 3500m Graphics Solution Redefines Mobile Workstation Performance And Capabilities
New NVIDIA Quadro FX 3500M Solution Powers Graphics Performance in Dell Precision M90 Mobile Workstations for Design, Digital Content Creation, and Visualisation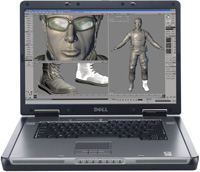 SANTA CLARA, CA—December 5, 2006—NVIDIA Corporation (Nasdaq: NVDA), the worldwide leader in graphics processors, today announced the NVIDIA Quadro FX 3500M, a high-performing mobile workstation graphics solution for CAD, Digital Content Creation, and Scientific Visualisation.
Engineered to deliver unprecedented performance for accelerated workflow and shortened design cycles, the Quadro FX 3500M with support for OpenGL and DirectX, offers up to 512MB G-DDR3 memory, a 256-bit memory interface, up to 38.4GB/s memory bandwidth, and up to 2GB/s pixel read back. The Quadro FX 3500M includes adaptive power management tools designed to provide performance scalability and visualisation of extensive datasets with extremely high image quality.
This new Quadro FX graphics solution is available immediately as an option on the award-winning Dell Precision™ M90 system. The Dell Precision M90 is one of the most powerful mobile workstation solutions ever offered by Dell, delivering the performance and features on-the-go Engineers, Artists, and Professionals demand in an ISV-certified mobile platform.
"As the leading mobile workstation provider worldwide, 1 Dell understands best-in class-performance is a priority for workstation customers, because it translates directly to improved productivity," said Antonio Julio, director, Dell Precision workstations. "Teaming with NVIDIA to offer the next-generation professional-class graphics solution enables us to design a mobile platform that truly delivers desktop-class performance."
NVIDIA Quadro FX mobile solutions offer the same features found in industry-leading NVIDIA workstation solutions for desktop-based professional workstations, including exclusive features such as 12-bit sub-pixel precision, and full 32-bit floating point precision, as well as a host of unequaled capabilities that NVIDIA Quadro desktop-based users have simply become accustomed to.
NVIDIA continues to raise the bar for visual graphics excellence for 3D artists everywhere. The speed and performance of the Quadro FX 3500M for the new Dell Precision M90 mobile workstations matches the performance of a desktop, which for our SOFTIMAGE®|XSI® users, offers a very compelling desktop replacement," said Mark Schoennagel, 3D Evangelist for Softimage Co., a subsidiary of Avid Technology, Inc. "We recently unveiled Softimage XSI 6 software, built on our unique Gigapolygon core, that specifically capitalises on working with high-polygon count 3D models in a 64-bit environment, and NVIDIA with DELL offer the hardware that allows our customers to create amasing 3D artistic creations."
The Dell Precision M90 features Intel® Core 2™ Duo processors, large memory configurations, expansive 17-inch displays, and can be configured with 32- or 64-bit Microsoft® Windows® XP Professional. For more product information, pricing, and availability visit www.dell.com/precision.
About NVIDIA
NVIDIA Corporation is the worldwide leader in programmable graphics processor technologies. The Company creates innovative, industry-changing products for computing, consumer electronics, and mobile devices. NVIDIA is headquartered in Santa Clara, CA and has offices throughout Asia, Europe, and the Americas. For more information, visit www.nvidia.in.
Certain statements in this press release including, but not limited to, statements as to NVIDIA GeForce 8 GPUs and nForce 600i SLI MCPs, Microsoft Windows Vista and DirectX 10, the progression of game development, and the benefits of manufacturing motherboards are forward-looking statements that are subject to risks and uncertainties that could cause results to be materially different than expectations. Important factors that could cause actual results to differ materially include: delays in ramping new products into production, market or customer acceptance of a competitor's product or technology instead of ours; software or manufacturing defects; our reliance on third party manufacturers; development of more effective or efficient GPUs or MCPs; the impact of technological development and competition; general industry trends; changes in industry standards as well as other factors detailed from time to time in the reports NVIDIA files with the Securities and Exchange Commission including its Form 10-Q for the quarter ended April 30, 2006. Copies of reports filed with the SEC are posted on our Web site and are available from NVIDIA without charge. These forward-looking statements are not guarantees of future performance and speak only as of the date hereof, and, except as required by law, NVIDIA disclaims any obligation to update these forward-looking statements to reflect future events or circumstances.