Product PR:
Varun Dubey
Product PR Manager - India
Tel: +91 9960611026
vdubey@nvidia.com
FOR IMMEDIATE RELEASE
Next-Generation NVIDIA Performance Tools Speed Development Times for Linux and Windows Applications
New NVPerfKit 2.1 Suite of Tools Offers Advanced Debugging, Visualisation and Profiling Capabilities for Improved Cross-Platform GPU-Based Software Development
BANGALORE, INDIA—October 19, 2006—NVIDIA Corporation (Nasdaq: NVDA), the worldwide leader in programmable graphics processor technologies, today announced NVPerfKit 2.1, a comprehensive suite of next-generation performance tools for the debugging and profiling of OpenGL and Direct3D software applications for Windows and Linux.
Developers working on 32- and 64-bit Linux or Windows platforms can now benefit from the same technology that powers the NVIDIA NVPerfHUD performance analysis tool. This is a robust profiling and visual debugging heads-up display (HUD) programme for Direct3D applications supporting Microsoft DirectX 9.0c and Windows XP on select NVIDIA graphics processing units (GPUs). Developers using NVPerfHUD 4 experience an average performance improvement of 35%, and find an average of 11 rendering bugs.*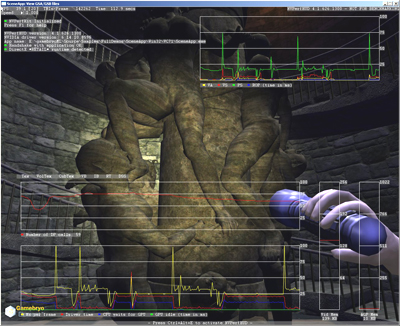 The NVPerfKit 2.1 suite of performance tools includes NVPerfHUD 4; shown here running on the Gamebryo game engine from Emergent Game Technologies.
Dan Speed, graphics engine programmer at CCP Games, relies on NVIDIA performance tools to streamline the development process and pinpoint problems in the creation of games such as Eve Online, a science fiction Massively Multiplayer Online Game (MMOG). "NVPerfHUD proved extremely easy to integrate and has become an indispensable tool in telling us where we're being foolish, by giving us impressive performance gains for key content in Eve Online."
"At Emergent, we are constantly seeking ways to improve performance for our customers' games. Integrating NVPerfHUD, and our Gamebryo Element game engine and toolset, provides an invaluable tool for optimising in-game performance," said Doug Kubel, vice president, Product Development at Emergent Game Technologies. "This integration provides our customers with in-depth data from the driver and GPU, allowing them to efficiently detect, analyse and remove performance bottlenecks."
By offering access to low-level performance counters inside the driver, as well as hardware counters inside the GPU, NVPerfKit 2.1 helps developers determine how applications use the GPU by identifying and confirming resolved performance issues for substantial time savings during application development.
NVPerfKit 2.1 offers the following enhanced components:
Instrumented Driver—Interfaces with the graphics API and GPU to provide performance counter data
NVPerfHUD—Offers advanced real-time analysis of Direct3D applications
NVPerfSDK—Includes an API for accessing GPU signals in applications, sample code and helper classes for OpenGL and DirectX applications, and an NVIDIA Developer Control Panel and instrumented driver
NVIDIA Plug-In for Microsoft PIX for Windows
GLExpert—Permits debugging of OpenGL usage errors and performance issues
Supports PerfMon, Intel VTune, gDEBugger and other analysis tools
NVPerfKit 2.1 supports Windows XP and Linux on NVIDIA® GeForce® 7 Series GPUs, NVIDIA GeForce 6 Series GPUs, and NVIDIA Quadro® FX or more recent NVIDIA GPUs; older GPUs are supported with reduced functionality.
The NVPerfKit 2.1 suite of performance tools is available for download at //developer.nvidia.com/NVPerfKit. A gallery of NVPerfHUD images spotlighting top game titles is available at //developer.nvidia.com/object/nvperfhud-screenshots.html.
NVIDIA Corporation
NVIDIA Corporation is the worldwide leader in programmable graphics processor technologies. The Company creates innovative, industry-changing products for computing, consumer electronics, and mobile devices. NVIDIA is headquartered in Santa Clara, CA and has offices throughout Asia, Europe, and the Americas. For more information, visit www.nvidia.in
* In a recent survey, more than 100 NVPerfHUD 4 users reported an average performance improvement of 34.8% by using NVPerfHUD 4 to tune their applications. These users also reported that NVPerfHUD 4 helped them find an average of 11 rendering bugs during development. Results were obtained from individuals using a variety of system configurations and applications. Individual results may vary.
Certain statements in this press release including, but not limited to, the features, uses, capabilities and performance of NVPerfKit 2.1 and NVIDIA NVPerfHUD are forward-looking statements that are subject to risks and uncertainties that could cause results to be materially different than expectations. Important factors that could cause actual results to differ materially include: difficulties in the development of new and enhanced products; loss in performance when products are integrated; use of different system configurations and applications; market or customer acceptance of a competitor's product instead of ours; software defects; the impact of technological development and competition; general industry trends; changes in industry standards and interfaces as well as other factors detailed from time to time in the reports NVIDIA files with the Securities and Exchange Commission including its Form 10-Q for the quarter ended April 30, 2006. Copies of reports filed with the SEC are posted on our website and are available from NVIDIA without charge. These forward-looking statements are not guarantees of future performance and speak only as of the date hereof, and, except as required by law, NVIDIA disclaims any obligation to update these forward-looking statements to reflect future events or circumstances.