Product PR:
Varun Dubey
Product PR Manager - India
Tel: +91 9960611026
vdubey@nvidia.com
FOR IMMEDIATE RELEASE
NVIDIA Powers India's Latest Gaming PC by HCL
HCL Beanstalk Game Master Ultimate PC combines NVIDIA® SLI technology with Intel® Core 2™ Extreme X6800 processor to create one the fastest gaming machines available in India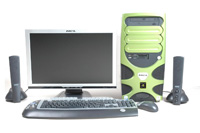 BANGALORE, INDIA-30TH SEPTEMBER 2006-NVIDIA Corporation (Nasdaq: NVDA), the worldwide leader in programmable graphics processor technologies, announces that India's leading information enabling & integration major HCL has selected NVIDIA technology to drive its latest gaming PC. The HCL Beanstalk Game Master Ultimate will be based on the NVIDIA nForce® 5 chipset and features two NVIDIA® GeForce® graphics processing units (GPUs). Combined with the Intel® Core™ 2 Extreme X6800 processor, this configuration is widely recognised as the ultimate gaming platform.
This awesome HCL system will include:
nForce-Intel edition chipset
2 x NVIDIA GeForce 7900GT GPUs
Intel Core 2 Extreme X6800 processor (2.93 GHz clock speed, 4 MB cache, 1066 MHz front side bus)
Two GB DDR2 RAM
Microsoft Windows Media Centre edition
"The equation is simple: NVIDIA SLI technology + Intel Core 2 Extreme = unbeatable gaming performance," said Alain Tiquet, NVIDIA Group Director for Marketing Europe, Middle East, Africa and India. "All over the world reviewers are coming to this same conclusion and now we're very excited to be working with HCL in bringing this system to the Indian market."
"With NVIDIA powering the HCL Beanstalk Game Master Ultimate it's the ultimate PC gaming machine," continued Rajender Kumar, Executive Vice President of HCL. "HCL is passionate about creating products which meet the evolving needs of our customers. By anticipating how the PC will develop, the company is maintaining its leadership with a range of technology solutions for the Indian market. Now we have created the HCL Beanstalk Game Master Ultimate by blending together the world's fastest processor, richest graphics capabilities and most engaging gaming content to deliver one of the fastest PCs available presently in India."
"The Intel® Core™2 Extreme Processor provides the best gaming performance known to mankind!" explained Prakash Bagri, Director, OEM Business at Intel. "We are delighted to be part of the new HCL Beanstalk Game Master Ultimate and confident that the Intel® Core™2 Extreme Processor will bring in new levels of excitement, helping to spearhead India's gaming revolution."
Rishi Srivastava, Director of Windows Client Business Group, Microsoft India, agrees. "India has today emerged as a booming gaming market - NASSCOM estimates that this market will grow at a significant CAGR of 89.1 percent to touch $205 million in 2009. This Windows Media Centre powered HCL Beanstalk Game Master Ultimate provides consumers with the ultimate gaming experience. We are very excited about this launch and are sure that Indian consumers will see immense value in the offering."
HCL Beanstalk Game Master Ultimate availability
Available ex-stock through HCL Digilife and HCL key Channel partners. For more information or to order, please contact Mohammed Danish at +91-9818567868 or email at mdanish@hcl.in. The HCL Beanstalk Game Master Ultimate retails at around Rupees 149,990 plus taxes.
About NVIDIA
NVIDIA Corporation is the worldwide leader in programmable graphics processor technologies. The Company creates innovative, industry-changing products for computing, consumer electronics, and mobile devices. NVIDIA is headquartered in Santa Clara, CA and has offices throughout Asia, Europe, and the Americas. For more information, visit www.nvidia.co.in.
About HCL Infosystems
HCL Infosystems, with an annual revenue of US$ 2.6 Billion, is India's premier information enabling and system integration company. HCL offers products and infrastructure solutions in the fields of computing, communication, networking, office automation, broadcasting and imaging. It has partnerships with leading global players like Intel, AMD, Toshiba, Bull, Ericsson, Cisco, Microsoft, Nokia, Apple, Computer Associates, Symantec and Konica Minolta among others.
HCL has a direct sales, channel sales and retail sales network pan India. HCL has a support of 300+ customer service centers and four ISO 9001 certified state-of-the-art manufacturing facilities. HCL Infosystems has pan India presence across metros and non-metros. With a mission to provide world-class information technology solutions and services to enable its customers to serve their customers better, HCL Infosystems is forever setting new standards of IT in the country. For more information please visit www.hclinfosystems.in.
About Intel
Intel, the world leader in silicon innovation, develops technologies, products and initiatives to continually advance how people work and live. Additional information about Intel is available at www.intel.com/pressroom
About Microsoft
Microsoft Corporation India Pvt. Ltd. is a wholly owned subsidiary of Microsoft Corporation, USA. It has had a presence in India since 1987 and it currently has offices in New Delhi, Bangalore, Kolkata, Chennai and Mumbai. Founded in 1975, Microsoft Corporation (NASDAQ "MSFT") is the worldwide leader in software for Personal Computers. The company offers a wide range of products and services for business and personal use; each designed with the mission of making it easier and more enjoyable for people to take advantage of the full power of personal computing every day.
Certain statements in this press release including, but not limited to, the benefits, features, performance, and capabilities of NVIDIA GeForce GPUs, NVIDIA nForce technology, future HCL consumer desktop PCs to feature NVIDIA products and technologies, availability and sources of availability of HCL desktop and PCs incorporating NVIDIA products and technologies are forward-looking statements that are subject to risks and uncertainties that could cause results to be materially different than expectations. Such risks and uncertainties include, but are not limited to, delays in ramping new products into production, loss in performance when our products and technologies are paired with our partners' products, prohibitive pricing of new products, development of new, higher performance technologies, manufacturing or software defects, changes in features demanded by mobile consumers, general industry trends including cyclical trends in the semiconductor industry, market acceptance of a competitor's product instead of our product, the impact of competitive products and pricing alternatives, and other risks detailed from time to time in the reports NVIDIA files with the Securities and Exchange Commission including its Form 10-Q for the fiscal quarter ended April 30, 2006. These forward-looking statements speak only as of the date hereof. NVIDIA disclaims any obligation to update these forward-looking statements.