Product PR:
Luciano Alibrandi
Director of Product PR EMEA
Tel: +33 1 55 63 84 92
lalibrandi@nvidia.com
FOR IMMEDIATE RELEASE
New NVIDIA® GeForce® 7 Series GPUs Deliver Incredible Value to PC Gamers
New NVIDIA GeForce 7900 GS and GeForce 7950 GT Reset Performance Bar at Their Respective Price Segments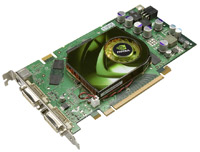 BANGALORE—SEPTEMBER 6, 2006—NVIDIA Corporation (Nasdaq: NVDA), the worldwide leader in programmable graphics processor technologies, today redefined performance expectations for graphics cards at two of the most popular price segments for PC gamers. Available immediately, NVIDIA SLI™-ready GeForce 7900 GS graphics processing units (GPUs) deliver exceptional performance and cutting-edge features at the widely-accessible price point of around INR 15000. Available September 14, 2006, the GeForce 7950 GT GPU brings screaming performance and a 512MB frame buffer to the INR 22000 to INR 24000 price segment.
"These new GeForce 7 Series GPUs are designed to deliver an extreme high-definition gaming and video experience at prices any gamer can afford," said Ujesh Desai, general manager of desktop GPUs at NVIDIA. "Gamers can now get more performance and features at these popular price points than ever before."
"These new GeForce 7 Series products are very exciting," says Rajesh Doshi, director of Top Notch Infotronix India Pvt Ltd. "Their price performance ratio is amazingly competitive and they will thrill the souls of gamers thirsting for such a combination of high performance and value. Gamers know they can rely on NVIDIA to deliver this and they certainly won't be disappointed. At around INR 15000 for the GeForce 7900GS and INR 22000 to INR 24000 for the GeForce 7950GT, these prices are truly awesome."
The GeForce 7900 GS and the GeForce 7950 GT boast the award-winning NVIDIA GeForce 7900 Series feature set, including:
NVIDIA SLI technology— a revolutionary platform innovation that allows users to intelligently scale graphics performance by combining multiple NVIDIA graphics solutions in a single system. Using proprietary software algorithms and dedicated scalability logic in each NVIDIA GPU and NVIDIA SLI MCP-based motherboard, SLI technology delivers a high performance computing solution for gamers and enthusiasts.
256-bit memory interface and fast GDDR3 memory enable rapid frame rates with all the eye-candy and special effects turned on.
The industry's only GPU architecture with full support for Microsoft DirectX® 9.0 Shader Model 3.0—including vertex texture fetch (VTF) —enables advanced shading programs for more realistic effects.
NVIDIA PureVideo™ technology, which delivers smooth video, superb picture clarity and vivid colours on any display. The GeForce 7950 GT also adds HDCP circuitry to enable the ultimate HD DVD and Blu-ray movie experience on a PC .
A high-performance 3D architecture built for Microsoft Windows® Vista™—the industry's first operating system to require a dedicated GPU to realise its full potential.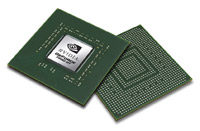 Some of the world's leading add-in card partners are offering graphics cards based on the new NVIDIA GeForce 7900 GS and GeForce 7950 GT GPUs, including Albatron, AOpen Inc., ASUSTek Computer Inc., BFG Technologies Inc., Biostar, Chaintech Computer Co. Ltd., Club3D, EVGA Corporation, Foxconn, Gainward Co. Ltd., Galaxy, Gigabyte Technology Co., Ltd., Innovision, Jetway, Leadtek Research Inc., MSI Computer Corporation, Palit Microsystems, Inc., Prolink, PNY Technology, Point of View, SPARKLE Computer Co., Ltd., and XFX. For further information on the GeForce 7 Series GPUs, please visit //www.nvidia.co.in.
About NVIDIA
NVIDIA Corporation is the worldwide leader in programmable graphics processor technologies. The Company creates innovative, industry-changing products for computing, consumer electronics, and mobile devices. NVIDIA is headquartered in Santa Clara, CA and has offices throughout Asia, Europe, and the Americas. For more information, visit www.nvidia.co.in.
Certain statements in this press release including, but not limited to, the features, benefits, capabilities and performance of NVIDIA PureVideo technology, the NVIDIA GeForce 7900 GS and the NVIDIA GeForce 7950, add-in card partners offering the new GPUs and Microsoft Windows Vista are forward-looking statements that are subject to risks and uncertainties that could cause results to be materially different than expectations. Important factors that could cause actual results to differ materially include: delays in ramping new products into production; difficulties in the development of new and enhanced products; loss in performance when products are integrated; delays in ramping new products into production; market or customer acceptance of a competitor's product instead of ours; development of more effective or efficient GPUs; manufacturing and other delays; defects in our products or the components of a product; the impact of technological development and competition; general industry trends; changes in industry standards and interfaces as well as other factors detailed from time to time in the reports NVIDIA files with the Securities and Exchange Commission including its Form 10-Q for the quarter ended April 30, 2006. Copies of reports filed with the SEC are posted on our website and are available from NVIDIA without charge. These forward-looking statements are not guarantees of future performance and speak only as of the date hereof, and, except as required by law, NVIDIA disclaims any obligation to update these forward-looking statements to reflect future events or circumstances.