Product PR:
Luciano Alibrandi
Director of Product PR EMEA
Tel: +33 1 55 63 84 92
lalibrandi@nvidia.com
FOR IMMEDIATE RELEASE
NVIDIA® Handheld Technology Scoops Two "Best of Show" Awards At Premier Developer Conference
NVIDIA GoForce Technology Demonstrates Next Generation Experience at Freescale Technology Forum
SANTA CLARA, CA—JULY 31, 2006—NVIDIA Corporation (Nasdaq: NVDA), the worldwide leader in programmable graphics processor technologies, today announced that its NVIDIA® GoForce® 5500 graphics processing unit (GPU) technology demonstration was awarded two "Best in Show" awards at the second-annual Freescale Technology Forum Americas, held July 24-27 in Orlando, Florida. The demonstration, entitled "Entertainment Without Limits" was selected as the "Most Innovative Platform" out of approximately 75 exhibitors displaying their products and technologies in the FTF Technology Lab. In addition, NVIDIA received Freescale's coveted People's Choice Award, given to the most impressive demonstration as voted on by attendees of FTF Americas.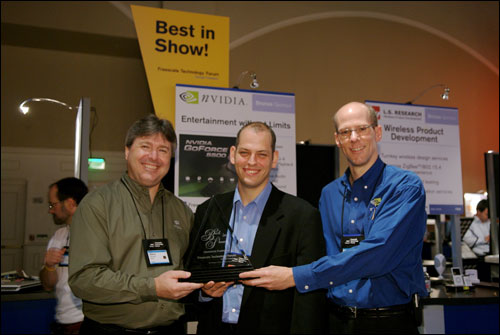 Berardino Baratta, general manager of Freescale's Multimedia Applications Division (center) hands the Best in Show award for 'Most Innovative Platform' to Glenn Schuster (left) and Stuart Bonnema (right) of the NVIDIA handheld GPU business group
The demonstration from NVIDIA was designed to illustrate the experience consumers can expect from the next generation of multimedia enabled handheld devices. It consisted of high performance 3D applications including Siege from Denied Reality and Quake3 from id Software, running on a Linux operating system based Freescale i.MX31 ADS system, H.264 HD video on a Linux based Freescale i.MX21 Maxi system, and WMV9 video on a Windows Mobile based Freescale i.MX21 Maxi system. Videos of the NVIDIA GoForce technology demos were also shown during the keynote speech of Michel Mayer, Chairman and CEO of Freescale Semiconductor.
Best of Show judges included Tom Halfhill, senior editor and senior analyst at Microprocessor Report; Lee Goldberg, an editor of analogZONE, an online publication read by more than 125,000 electrical engineers worldwide; and Tom Williams, editor in chief of RTC Magazine. The independent team of media judges ultimately selected NVIDIA from a diverse field of hardware and software product demonstrations based on the GoForce 5500's exceptional performance, combined with low power and small size, targeted at a market with huge growth potential. Judges were quoted as saying that the demonstration exemplified the potential of "graphics on anything!"
For more information on NVIDIA GoForce products, please visit: //www.nvidia.in/page/handheld.html
NVIDIA Corporation
NVIDIA Corporation is the worldwide leader in programmable graphics processor technologies. The Company creates innovative, industry-changing products for computing, consumer electronics, and mobile devices. NVIDIA is headquartered in Santa Clara, CA and has offices throughout Asia, Europe, and the Americas. For more information, visit www.nvidia.in.
Certain statements in this press release including, but not limited to, the features, benefits, performance and capabilities of next generation multimedia enabled handheld devices are forward-looking statements that are subject to risks and uncertainties that could cause results to be materially different than expectations. Such risks and uncertainties include, but are not limited to, the impact of competitive products, manufacturing or software defects, changes in the features customers demand, market acceptance of our technology, unexpected costs, unanticipated loss of performance, changes in industry standards and interfaces, our dependence on third-party manufacturers, our dependence on third-party developers and publishers and other risks detailed from time to time in the NVIDIA reports filed with the Securities and Exchange Commission including its Form 10-Q for the quarter ended April 30, 2006. These forward-looking statements speak only as of the date hereof. NVIDIA disclaims any obligation to update these forward-looking statements.