NVIDIA® SLI™ Technology Selected By Global PC Builders for Intel® Core™ 2 Duo Launch



Product PR:

Luciano Alibrandi
Director of Product PR EMEA
Tel: +33 1 55 63 84 92
lalibrandi@nvidia.com

FOR IMMEDIATE RELEASE

NVIDIA® SLI™ Technology Selected By Global PC Builders for Intel® Core™ 2 Duo Launch

First Reviews of Intel Core 2 Duo Show NVIDIA nForce® Motherboards and NVIDIA SLI Multi-GPU Solutions Taking the Performance Crown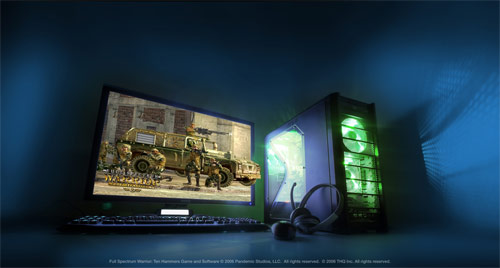 "NVIDIA SLI graphics technology combined with the new Intel Core 2 Duo processor provides the ultimate platform for playing the hottest games, including THQ's Full Spectrum Warrior™: Ten Hammers."
SANTA CLARA, CA—JULY 28, 2006—NVIDIA Corporation (Nasdaq: NVDA), the worldwide leader in programmable graphics processor technologies, today announced that many of the world's leading system builders have elected to launch new enthusiast gaming Intel Core 2 Duo-based systems exclusively with NVIDIA SLI technology. The Intel Core 2 Duo processor combined with an NVIDIA nForce4 SLI X16, NVIDIA nForce 590 SLI or 570 SLI-based motherboard and one, two, or even four GeForce® graphics processing units (GPUs), has already proven to be an unbeatable combination in terms of system level and gaming performance. This combination is earning early accolades from leading publications, such as Hexus.net, which awarded the Mesh Elite Extreme SLI PC with Intel Core 2 Duo, nForce4 x16 SLI and two NVIDIA GeForce 7900 GTX 512MiB GPUs their 'Extreme Speed' award.
"It's a real eye-opener," wrote Steve Kerrison for Hexus.net. "The MESH Elite Extreme SLI is the fastest pre-built system we've seen in our labs."
Hot Hardware's Marco Chiappetta was also just as enthusiastic about the performance of the NVIDIA nForce4 SLI X16 media and communications processor (MCP), which helps form the Company's top-to-bottom product strategy for supporting Intel Core 2 Duo processors. Mr. Chiappetta wrote: "This motherboard, [the NVIDIA nForce4 SLI X16 MCP-based ASUS P5N32-SLI SE], in conjunction with Corsair's TWIN2X2048-6400C3 memory kit, a pair of GeForce 7900 GTX cards, and a Core 2 Extreme X6800 processor posted some of the highest benchmark scores we have ever seen!"
This level of performance, broad software compatibility, and the breadth of products in the NVIDIA SLI ecosystem—which now includes more than 320 components ranging from power supplies to memory—is fueling the continued momentum and adoption of NVIDIA SLI technology by the world's leading system builders, all of whom are excited about bringing cutting-edge Intel Core 2-based systems into the marketplace.
"Gamers want the ultimate platform, and as of today, that means Intel Core 2 Duo and NVIDIA SLI," said Nick Walter, Marketing Manager at Mesh Computers. "UK reviewers have already given a fantastic reception to our Mesh Elite Extreme SLI system, with the NVIDIA nForce SLI X16 MCP and Intel Core 2 Duo processor, and we're confident that our customers will be equally excited by its awesome gaming power."
Global system builders now offering NVIDIA SLI technology-based Intel Core 2 Duo systems include: ABS, Alienware, Alternate, Amax/Ajump, Atelco, Carri, Casper, CyberPower, Everest, Evesham, Falcon Northwest, FDC, HCL Infosystems, Hyrican, iBuyPower, Infinity, Komplete, Kraftway, Levi, Maingear, Mesh, Monarch, Next, NTT, Paradigit, PC Club, Polywell, Quiet PC, Sahara Computers, Scan, SHG, Starmaster, Systemax, Tarox, Topnotch, Velocity Micro, Vicious PC, Vigor Gaming, Vobis, Voodoo PC, DOSPARA, Faith, MCJ and others.
About NVIDIA
NVIDIA Corporation is the worldwide leader in programmable graphics processor technologies. The Company creates innovative, industry-changing products for computing, consumer electronics, and mobile devices. NVIDIA is headquartered in Santa Clara, CA and has offices throughout Asia, Europe, and the Americas. For more information, visit www.nvidia.in.
Certain statements in this press release including, but not limited to, the features, benefits, performance and capabilities of NVIDIA SLI technology, NVIDIA GPUs and NVIDIA nForce products, use of NVIDIA products and technology with the Intel Core 2 Duo processor, adoption of NVIDIA SLI technology by the world's leading system builders and availability of NVIDIA SLI-based Intel Core 2 Duo systems are forward-looking statements that are subject to risks and uncertainties that could cause results to be materially different than expectations. Such risks and uncertainties include, but are not limited to, delays in ramping new products into production, manufacturing or software defects, reliance on third party manufacturers, market acceptance of our technology, the impact of competitive products and pricing alternatives, development of other dual core technology, unanticipated loss of performance when products are integrated, changes in industry standards and interfaces, our dependence on third-party developers and publishers and other risks detailed from time to time in the NVIDIA reports filed with the Securities and Exchange Commission including its Form 10-Q for the quarter ended April 30, 2006. These forward-looking statements speak only as of the date hereof. NVIDIA disclaims any obligation to update these forward-looking statements.
---