Product PR:
Luciano Alibrandi
Director of Product PR EMEA
Tel: +33 1 55 63 84 92
lalibrandi@nvidia.com
FOR IMMEDIATE RELEASE
NVIDIA GeForce GPU Powers New Fujitsu Siemens Computers AMILO Pi 1556 Notebook
GeForce Go 7600 GPU delivers stunning widescreen graphics for consumer notebooks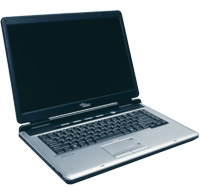 BANGALORE, INDIA—JULY 03 2006—NVIDIA Corporation (Nasdaq: NVDA), the worldwide leader in programmable graphics processor technologies, has announced that the latest notebook from Fujitsu Siemens Computers features the NVIDIA® GeForce® Go 7600 graphics processing unit (GPU). With graphics powered by the GeForce GPU, the AMILO Pi 1556 is lightweight yet powerful enough to handle the latest multimedia applications and mobile gaming. Its 15.4" CrystalView widescreen display, coupled with NVIDIA® PureVideo™ technology, delivers ultra-smooth pictures and vibrant colour for seamless DVD playback.
The NVIDIA GeForce Go 7600 GPU features advanced technologies that deliver cutting-edge 3D, high-definition (HD) video and advanced power management to the notebooks, enhancing the mobile computing experience. Features include:
Support for the latest games and applications with DirectX 9.0 Shader Model 3.0 and film quality high dynamic range (HDR) lighting, the must-have feature for developers delivering more realism to real-time gaming.
NVIDIA PureVideo technology, which enables users to experience home theatre-quality HD video on a notebook PC
NVIDIA PowerMizer® technology, with advanced power management features that enable the dramatic performance enhancements in the same power budget as the previous generation of NVIDIA mobile GPUs. The reduced power consumption and less heat generation result in cooler and smaller notebooks with increased battery life.
A high performance 3D architecture built for Microsoft Windows Vista™ the industry's first operating system to recommend a dedicated GPU to realise its full potential.
"Fujitsu Siemens Computers is well known for state of the art consumer PCs and notebooks that provide best performance for private users," said Herbert Schönebeck, Vice President Consumer at Fujitsu Siemens Computers. "Thanks to the new NVIDIA technology gamers, photo and film fans will find a perfect device in the new AMILO Pi 1556."
The AMILO Pi 1556 will be available in Europe, the Middle East and Africa from mid July 2006. For more information, please visit //www.nvidia.in/page/mobile.html and www.fujitsu-siemens.com/home/products/notebooks/index.html.
About NVIDIA
NVIDIA Corporation is the worldwide leader in programmable graphics processor technologies. The Company creates innovative, industry-changing products for computing, consumer electronics, and mobile devices. NVIDIA is headquartered in Santa Clara, CA and has offices throughout Asia, Europe, and the Americas. For more information, visit www.nvidia.in.
Certain statements in this press release including, but not limited to, the features, benefits, capabilities and performance of the NVIDIA GeForce GO 7600 GPU, NVIDIA PureVideo technology and NVIDIA PowerMizer technology and the dates and sources of availability of the AMILO Pi 1556 are forward-looking statements that are subject to risks and uncertainties that could cause results to be materially different than expectations. Such risks and uncertainties include, but are not limited to, delays in ramping new products into production, loss in performance when our products and technologies are paired with our partners' products, changes in customer preferences or performance demands, development of new products that outperform our products, manufacturing or other defects that may delay the release or availability of new products, difficulties in the fabrication process and our dependence on third-party manufacturers, market acceptance of a competitor's product instead of our product or technology, unanticipated changes in industry standards and interfaces, the impact of competitive products, and other risks detailed from time to time in the reports NVIDIA files with the Securities and Exchange Commission including its periodic report on Form 10-Q for the quarter ended April 30, 2006. These forward-looking statements speak only as of the date hereof. NVIDIA disclaims any obligation to update these forward-looking statements.