NVIDIA Professional Graphics Offer Customers Enhanced Performance and Features on Mobile and Desktop Workstations
Product PR:
Luciano Alibrandi
Director of Product PR EMEA
Tel: +33 1 55 63 84 92
lalibrandi@nvidia.com
FOR IMMEDIATE RELEASE
NVIDIA Professional Graphics Offer Customers Enhanced Performance and Features on Mobile and Desktop Workstations
NVIDIA Quadro® FX Solutions Redefine Performance with Improved Features for High-Quality Graphics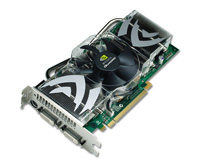 SANTA CLARA, CA—June 28, 2006—NVIDIA Corporation (Nasdaq: NVDA), the worldwide leader in programmable graphics processor technologies, announces NVIDIA Quadro FX graphics solutions offering customers next-generation architecture, NVIDIA High-Precision Dynamic Range (HDPR) technology and refined vertex and pixel programmability for advanced graphics, are now being integrated into many of the newest mobile and desktop workstations from companies such as Hewlett-Packard.
"Industry-leading NVIDIA Quadro FX graphics are being adopted across a variety of workstation configurations, providing customers with the power, flexibility, and features they need to get the job done," said Dan Vivoli, senior vice president of the Professional Solutions Group at NVIDIA. "Companies such as HP with proven track records of delivering high-performance mobile and desktop workstations continue to redefine performance for customers by offering the latest NVIDIA Quadro FX solutions for professional graphics."
NVIDIA Quadro FX graphics solutions continue to be one of the industry's top choices for professional graphics applications.
NVIDIA Quadro FX 4500 – Delivers up to 33.6GB/sec. memory bandwidth, 512MB GDDR2 frame buffer memory, 256-bit memory interface and support for 2 ultra-high resolution (3840 x 2400) digital panels
NVIDIA Quadro FX 3500 – Offers a new level of graphics performance and is fast becoming a standard high-end configuration for major OEMs and enterprise customers worldwide
NVIDIA Quadro FX 1500 – The first mid-range solution to offer high-performance coupled with two dual-link DVI connectors, 256MB GDDR3 frame buffer memory and HD video output
NVIDIA Quadro FX 560 – Introduces dual-link DVI, fast DDR3 128MB graphics memory and HD video output
"HP customers have long taken advantage of the range of NVIDIA Quadro solutions offered in our desktop workstations," said Jim Zafarana, vice president of marketing, Workstation Division, HP. "We are pleased our EMEAI customers will be getting the same professional graphics in the HP Compaq nw9440, the most powerful mobile solution we have ever offered, delivering workstation-caliber processing and graphics performance wherever your work takes you."
The HP Compaq nw9440 mobile workstation comes standard with NVIDIA Quadro FX 1500M graphics with 256MB of GDDR III video memory and delivers the performance, quality, and stability required for the most demanding projects. In addition, the latest desktop solutions—the HP xw6400 and HP xw8400 workstations—will offer a range of graphics to suit the diverse needs of HP customers. These include the NVIDIA Quadro FX 4500, NVIDIA Quadro FX 3500, NVIDIA Quadro FX 1500 and the NVIDIA Quadro FX 560 solutions announced in April 2006.
"HP and NVIDIA play an instrumental role in providing the hardware platforms that allow our customers to make, manage, and move their media," said Marc Stevens, vice president and general manager of Softimage Co., a subsidiary of Avid Technology, Inc. "When SOFTIMAGE®|XSI®—the leading 3D character animation software—is paired with NVIDIA Quadro graphics on HP workstations, our customers can count on stable, certified workstations that accelerate the creative process and streamline their workflow."
For more information on these and other NVIDIA Quadro products, please visit www.nvidia.in/quadro
About NVIDIA
NVIDIA Corporation is the worldwide leader in programmable graphics processor technologies. The Company creates innovative, industry-changing products for computing, consumer electronics, and mobile devices. NVIDIA is headquartered in Santa Clara, CA and has offices throughout Asia, Europe, and the Americas. For more information, visit www.nvidia.in.
Certain statements in this press release including, but not limited to, the features, benefits, performance and capabilities of the NVIDIA Quadro FX graphics solutions and the HP Compaq nw9440, HP xw 6400 and HP xw8400 workstations, workstations into which our products are integrated, and our role in the industry are forward-looking statements that are subject to risks and uncertainties that could cause results to be materially different than expectations. Such risks and uncertainties include, but are not limited to, delays in ramping new products into production, loss in performance when products are used together, delays in integrating products, changes in customer preferences and demands, acceptance of new products and technologies by the market, development of new technologies, manufacturing or software defects, adoption of a competitor's product instead of one of our products by our customers, general industry trends including cyclical trends in the semiconductor industry, the impact of competitive products and pricing alternatives, changes in industry standards and interfaces, and other risks detailed from time to time in the reports NVIDIA files with the Securities and Exchange Commission including its Form 10-Q for the fiscal period ended April 30, 2006. These forward-looking statements speak only as of the date hereof. NVIDIA disclaims any obligation to update these forward-looking statements.