Product PR:
Luciano Alibrandi
Director of Product PR EMEA
Tel: +33 1 55 63 84 92
lalibrandi@nvidia.com
FOR IMMEDIATE RELEASE
NVIDIA Introduces PureVideo HD – Essential Technology for the Ultimate HD Movie Experience on PCs
PureVideoTM HD Technology Combines High Definition Features with HDCP Support to Provide Stunning Blu-ray and HD DVD Movie Playback on PCs
COMPUTEX, TAIWAN—JUNE 8, 2006—NVIDIA Corporation (Nasdaq: NVDA) today unveiled PureVideo high definition (HD) technology, which delivers outstanding HD DVD and Blu-ray movie playback on PCs. PureVideo HD combines hardware acceleration from an NVIDIA graphics processing unit, high definition movie player integration and High-bandwidth Digital Content Protection (HDCP) feature support to make it easy for manufacturers and consumers to build powerhouse PCs that can play HD DVD or Blu-ray movies. As a result, consumers will be able to enjoy a stunning high-definition movie experience on their PCs.
"Consumer interest in blue-laser DVD technology on the PC is growing – we project that more than 35 million high-definition optical disk drives will be integrated into PCs in the next five years," said Wolfgang Schlichting, Research Director at IDC. "The industry is on the threshold of a new era in entertainment, but typical consumers do not know what is required to play an HD movie on a PC. Therefore, an integrated solution such as PureVideo HD, which will give the user a high-quality experience when playing their HD movies on a PC, will be an important feature of a next-generation PC," he added.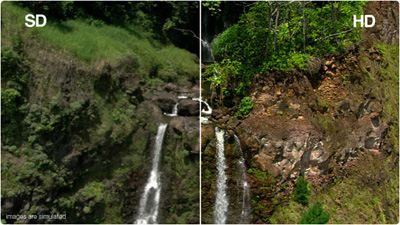 The next digital entertainment revolution is about to begin, with highly anticipated HD DVD and Blu-ray movies shipping this summer. These movies feature lifelike imagery with up to six times more visual detail than standard DVDs, but they can't be played with regular DVD drives. HD movies are encoded in new formats that require special HD optical drives, hardware acceleration, HDCP compatible displays, and new HD movie player software.
NVIDIA has the solution. PureVideo HD technology combines high-definition movie decode acceleration (using certain NVIDIA GeForce 7-series graphics processing units), HDCP circuitry and HD movie player integration to deliver cinematic-quality Blu-ray and HD DVD movie playback on a PC.
NVIDIA PureVideo HD technology provides:
Hardware acceleration for decoding high-definition movies in the required formats (H.264, VC-1, and MPEG-2) with minimal CPU utilisation and low power consumption.
Advanced post-processing features for razor-sharp HD movie playback at resolutions up to 1080p, the highest HD resolution available.
Support by the leading HD movie player software companies that take advantage of PureVideo HD's hardware acceleration and HDCP features.
A graphics card featuring PureVideo HD technology combined with an AACS HD disk drive, an HDCP-compliant display and a PureVideo-powered HD movie player from companies like CyberLink, InterVideo and Nero make it possible for consumers to enjoy superb HD movie playback on their PC.
"CyberLink shares a commitment with NVIDIA to delivering an uncompromising HD viewing experience on the PC," said Johnny Tseng, VP of Research and Development, CyberLink Corp. "High definition movies require dedicated graphics processing to deliver smooth playback. Together with CyberLink's advanced video technologies, consumers can be assured that they'll have a great viewing experience with NVIDIA PureVideo HD technology and CyberLink PowerDVD."
Leading system builders including Sony, Toshiba and Acer have adopted NVIDIA GeForce GPUs with PureVideo HD technology to power their first PCs capable of playing Blu-ray and HD DVD movies. HD movie software from Nero, CyberLink and InterVideo fully supports PureVideo HD technology. Graphics card manufacturers including MSI and ASUS will release video cards this summer supporting all of the features of NVIDIA PureVideo HD. In addition, NVIDIA is working closely with major optical disk drive manufacturers including Sony/NEC, Panasonic, Pioneer, Toshiba/Samsung, and Philips to test disk drive performance and maximise compatibility.
About NVIDIA
NVIDIA Corporation is the worldwide leader in programmable graphics processor technologies. The Company creates innovative, industry-changing products for computing, consumer electronics, and mobile devices. NVIDIA is headquartered in Santa Clara, CA and has offices throughout Asia, Europe, and the Americas. For more information, visit www.nvidia.in.
Certain statements in this press release including, but not limited to, the features, benefits, uses and performance of NVIDIA PureVideo HD technology and PCs incorporating PureVideo technology, optical drives to be sold into PCs, the new era of entertainment, requirements to play HD movies on PCs, and the sources and availability of graphics cards featuring NVIDIA PureVideo HD are forward-looking statements that are subject to risks and uncertainties that could cause results to be materially different than expectations. Such risks and uncertainties include, but are not limited to, software or manufacturing defects, delays in ramping new products into production, changes in customer preferences or product uses, adoption of a competitive technology by the market, customers using a device other than a PC to view HD movies, slower than anticipated adoption of new standards or technology, our reliance on third-party manufacturers, manufacturing costs, the impact of competitive products and pricing alternatives, changes in industry standards and interfaces and other risks detailed from time to time in the reports NVIDIA files with the Securities and Exchange Commission including its Form 10-Q for the period ended April 30, 2006. These forward-looking statements speak only as of the date hereof. NVIDIA disclaims any obligation to update these forward-looking statements.