Product PR:
Luciano Alibrandi
Director of Product PR EMEA
Tel: +33 1 55 63 84 92
lalibrandi@nvidia.com
FOR IMMEDIATE RELEASE
Six New NVIDIA Quadro® FX Graphics Solutions Offer Robust Features and Improved Performance
BANGALORE, INDIA - APRIL 20, 2006—NVIDIA Corporation (Nasdaq: NVDA), the worldwide leader in programmable graphics processor technologies, continues to improve workstation graphics performance with six new NVIDIA Quadro FX solutions for high-end, mid-range and entry-level professionals.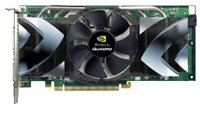 NVIDIA Quadro FX products have long been the industry's top choice for professional application users, and this latest generation cements the company's leadership position. Combined with the recently announced line of mobile workstation graphics, the NVIDIA Quadro FX family of solutions represents the most extensive line of commercial off-the-shelf (COTS) professional graphics solutions ever assembled.
The new NVIDIA Quadro product line-up includes:
NVIDIA Quadro FX 5500 graphics processing unit (GPU) – The industry-leading ultra high-end graphics solution offering 1GB of frame buffer memory for the most challenging professional 3D applications
NVIDIA Quadro FX 3500 GPU – Offers a new level of graphics performance and is fast becoming a standard high-end configuration for major OEMs and enterprise customers worldwide
NVIDIA Quadro FX 1500 GPU – The first mid-range solution to offer high performance coupled with two dual-link DVI connectors, 256MB GDDR3 frame buffer memory, and HD video output
NVIDIA Quadro FX 560 GPU – Introduces dual-link DVI, fast DDR3 128MB graphics memory and HD video output
NVIDIA Quadro FX 550 GPU – Offers compelling price performance, featuring dual DVI with 128MB of graphics memory
NVIDIA Quadro FX 350 GPU – An economical professional graphics option that incorporates a variety of architectural features found in the entire product line.
Sun Microsystems is one of the first industry-leading workstation manufacturers to offer the high-end, performance-leading NVIDIA Quadro FX 5500 based solutions to professional 3D graphics customers.
"Sun Microsystems will soon outfit our high-performance Sun Ultra 40 Workstation with NVIDIA Quadro FX 5500 graphics, the most powerful professional solution available today," said Paul Read, director of marketing at Sun Microsystems. "The Sun Ultra Workstations, featuring AMD Opteron processors, are designed for extremely compute-intensive application environments, and the latest graphics solutions from NVIDIA are a perfect match, offering the level of performance, features, and image quality that our customers demand."
"The workstation market hit $5.3 billion in revenues for an 18.4 percent gain in 2005. In the highly competitive professional graphics board market NVIDIA enjoyed a commanding 70 percent in units shipped for the year," said Dr. Jon Peddie, president of Jon Peddie Research in Tiburon, CA. "NVIDIA's ability to deliver state-of-the-art graphics while providing rock solid drivers for critical professional applications has won them the respect of workstation manufacturers and users."
NVIDIA Quadro FX GPU based solutions are available widely through leading OEMs, including IBM, Sun, and FSC, leading workstation system integrators, including Alienware and BOXX Technologies, and NVIDIA channel partners PNY Technologies (US and EMEA), Leadtek (APAC) and Elsa (Japan). For more information about the full lineup of NVIDIA professional solutions, please visit www.nvidia.in/quadro.
About NVIDIA
NVIDIA Corporation is a market leader in visual computing technology dedicated to creating products that enhance the interactive experience on consumer and professional computing platforms. Its graphics and communications processors have broad market reach and are incorporated into a wide variety of computing platforms, including consumer digital-media PCs, enterprise PCs, professional workstations, digital content creation systems, notebook PCs, military navigation systems and video game consoles. NVIDIA is headquartered in Santa Clara, California and employs more than 2,000 people worldwide. For more information, visit the Company's Web site at www.nvidia.in.
Certain statements in this press release, including any statements relating to the Company's performance expectations for NVIDIA's family of products and expectations of continued revenue growth, are forward-looking statements that are subject to risks and uncertainties that could cause results to be materially different than expectations. Such risks and uncertainties include, but are not limited to, manufacturing and other delays relating to new products, difficulties in the fabrication process and dependence of the Company on third-party manufacturers, general industry trends including cyclical trends in the PC and semiconductor industries, the impact of competitive products and pricing alternatives, market acceptance of the Company's new products and the Company's dependence on third-party developers and publishers. Investors are advised to read the Company's Annual Report on Form 10-K and quarterly reports on Form 10-Q filed with the Securities and Exchange Commission, particularly those sections entitled "Certain Business Risks," for a fuller discussion of these and other risks and uncertainties.
# # #
Copyright © 2006 NVIDIA Corporation. All rights reserved. All company and/or product names may be trade names, trademarks and/or registered trademarks of the respective owners with which they are associated. Features, pricing, availability and specifications are subject to change without notice.
Note to editors: If you are interested in viewing additional information on NVIDIA, please visit the NVIDIA Press Room at //www.nvidia.in/page/press_room.html.