Product PR:
Luciano Alibrandi
Director of Product PR EMEA
Tel: +33 1 55 63 84 92
lalibrandi@nvidia.com
FOR IMMEDIATE RELEASE
NVIDIA Strengthens Mainstream Product Line with Two GeForce® 7 Series GPUs
GeForce 7600 GS and GeForce 7300 LE GPUs Deliver GeForce 7 Series Features and Performance at Affordable Prices
GAME DEVELOPERS CONFERENCE 2006—SAN JOSE, CA—MARCH 22, 2006—NVIDIA Corporation (Nasdaq: NVDA), the worldwide leader in programmable graphics processor technologies, today expanded the Company's GeForce 7 Series product line for the mainstream market segment with two competitively positioned graphics processing units (GPUs). Available immediately from leading retail and e-tail outlets worldwide are:
The GeForce 7600 GS GPU—this NVIDIA® SLI™-Ready GPU delivers extreme high-definition (HD) gaming and home-theater quality HD video with silent operation for an incredible entertainment experience.
The GeForce 7300 LE GPU—previously available only to system builders, the GeForce 7300 LE boasts the video and gaming features of today's most advanced GPUs. It delivers stunning, HD video—up to 1080i resolution—and ultra-realistic gaming effects at mainstream price points without compromising performance.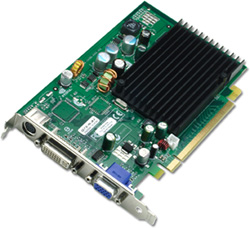 "NVIDIA GPUs have long been praised in the enthusiast community and by gamers for excellent 3D performance and exceptional HD video playback," said Ujesh Desai, general manager of desktop GPUs at NVIDIA. "The same characteristics that make so many gamers select NVIDIA GPUs will greatly benefit mainstream customers when Microsoft® Windows® Vista arrives —and these new GPUs deliver the same enthusiast–class features at very affordable prices."
Boasting the renowned GeForce 7 Series features, these new GPUs deliver advanced technologies including:
A high-performance 3D architecture built for Microsoft Windows Vista— the industry's first operating system to require a dedicated GPU to realize its full potential.
H.264 hardware accelerated support through NVIDIA PureVideo™ technology—the combination of HD video processors and software delivers a HD home-theater quality video experience to the PC.
The industry's only GPU architecture with full support for Microsoft DirectX® 9.0 Shader Model 3.0—including vertex texture fetch (VTF) —enabling advanced shading programs for more realistic effects.
Some of the world's leading add-in card partners are offering graphics cards based on the new NVIDIA GeForce 7 Series GPUs, including Albatron, AOpen Inc., ASUSTek Computer Inc., BFG Technologies Inc., Biostar, Chaintech Computer Co. Ltd., Cheer Ascent, City Gate / Triple-D, Club3D, ELSA, Epsco, EVGA Corporation, Gainward Co. Ltd., Galaxy, Gigabyte Technology Co., Ltd., Innovision, Jaton, Jetway, Leadtek Research Inc., MSI Computer Corporation, Palit Microsystems, Inc., Prolink, PNY Technology, Point of View, Sigmacom, SPARKLE Computer Co., Ltd., and XFX.
For further information on the GeForce 7 Series GPUs, please visit www.nvidia.in/page/geforce_7600.html.
About NVIDIA
NVIDIA Corporation is a market leader in visual computing technology dedicated to creating products that enhance the interactive experience on consumer and professional computing platforms. Its graphics and communications processors have broad market reach and are incorporated into a wide variety of computing platforms, including consumer digital-media PCs, enterprise PCs, professional workstations, digital content creation systems, notebook PCs, military navigation systems and video game consoles. NVIDIA is headquartered in Santa Clara, California and employs more than 2,000 people worldwide. For more information, visit the Company's Web site at www.nvidia.in.
Certain statements in this press release, including any statements relating to the Company's performance expectations for NVIDIA's family of products and expectations of continued revenue growth, are forward-looking statements that are subject to risks and uncertainties that could cause results to be materially different than expectations. Such risks and uncertainties include, but are not limited to, manufacturing and other delays relating to new products, difficulties in the fabrication process and dependence of the Company on third-party manufacturers, general industry trends including cyclical trends in the PC and semiconductor industries, the impact of competitive products and pricing alternatives, market acceptance of the Company's new products and the Company's dependence on third-party developers and publishers. Investors are advised to read the Company's Annual Report on Form 10-K and quarterly reports on Form 10-Q filed with the Securities and Exchange Commission, particularly those sections entitled "Certain Business Risks," for a fuller discussion of these and other risks and uncertainties.
# # #
Copyright © 2006 NVIDIA Corporation. All rights reserved. All company and/or product names may be trade names, trademarks and/or registered trademarks of the respective owners with which they are associated. Features, pricing, availability and specifications are subject to change without notice.
Note to editors: If you are interested in viewing additional information on NVIDIA, please visit the NVIDIA Press Room at //www.nvidia.in/page/press_room.html.