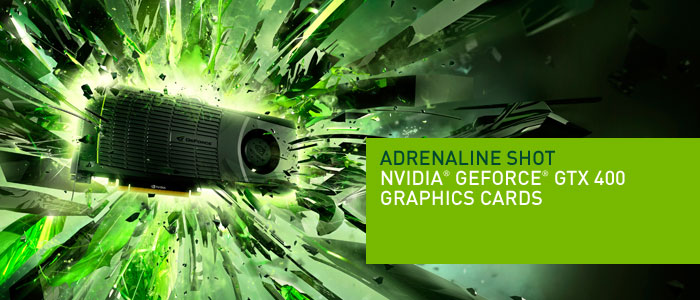 Give your games an adrenaline shot with the fastest GPU on the planet
Experience heart-pounding, cinematic visuals in stereoscopic 3D with the combined power of DirectX 11, NVIDIA
®
PhysX
®
and NVIDIA
®
3D Vision™ Surround technologies.
EXPERIENCE NEXT
GENERATION GAMING

Watch the GTX 400 GPUs Video

PRODUCTS
FEATURES
INCREDIBLY DETAILED VISUALS
Experience an unprecedented level of detail and realism in the latest games. Tessellation- one of the biggest new features of Microsoft DirectX11- helps developers create more detailed characters and terrain in games, bringing you sharper, crisper images and a more realistic experience. GeForce GTX 400 GPUs deliver up to 8x the tessellation performance compared to competition*, bringing your games closer to reality without sacrificing the high frame rates you enjoy. Learn More
Total Immersion:
Breakthrough the boundaries of your screen. Games, movies and photos enter a new dimension with NVIDIA 3D Vision technology. Thrill seeker? Use two GeForce GTX 480 cards in NVIDIA

®

SLI

®

configuration to project across three displays with NVIDIA 3D Vision Surround* technology. *Warning: May cause screen envy. Learn More
Stunning Gaming Effects:
Cutting-edge Microsoft DirectX 11 graphics and NVIDIA

®

PhysX

®

technology take gaming to a new level. Witness effects so realistic that you'll have to remind yourself it's just a game. Repeat: It's just a game.
Futuristic Graphics:
Prepare yourself for the future of gaming. GeForce GTX 480 powers interactive raytracing, bringing spectacular, photo-realistic renderings to your screen for the first time. Go ahead, spoil your eyes.
Stone Giant image captured on NVIDIA GPU. © Bitsquid 2010
Need for Speed Shift image captured on NVIDIA GPU. Provided by Electronic Arts
DEMOS AND GAMES
Check out the latest demos and games that we recommend for GTX 400 GPUs. Download the demos and get the latest wallpapers! More info

Design Garage:
Create a beauty-shot to remember, with this interactive ray tracing demo
See all demos

Just cause 2
Enjoy cinema-quality visuals and effects like depth of field and realistic water powered by NVIDIA
®
CUDA™ technology.
See all games
* NVIDIA 3D Vision Surround requires upcoming NVIDIA release 256 driver, two or more graphics cards in NVIDIA SLI configuration, 3D Vision glasses, and 3D Vision-Ready displays. See
www.nvidia.co.in/surround
for more information.