Nexus Digital Studios, Motion Analysis Studios, and NVIDIA Quadro FX Graphics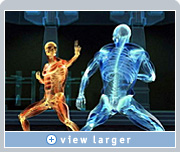 For the Discovery Channel Xtreme Martial Arts documentary, body scanning and motion capture special effects studios used NVIDIA Quadro FX 3000 graphics to create 3D digitized humans detailed down to their biomechanically correct skeletons.

Are computer-generated (CG) worlds and special effects really generated by computers? Not completely. Filmmakers and game designers have always relied on the human element, employing artists to create compelling experiences. Today's digital artists require advanced laser scanning and motion capture technologies to bring realistic people, animals, props, and objects to life in 3D digitized worlds. Even in the industrial arena, engineers are looking for efficient and accurate ways to animate real-world objects in digitized environments.
Two of the premiere studios providing scanning and motion capture services to movie houses are Nexus Digital Studios and Motion Analysis Studios (MAS). Both of these companies rely exclusively on NVIDIA Quadro® FX professional graphics solutions for enough power to capture photorealistic detail for film-quality results.
NVIDIA-powered Nexus and MAS CG technology was critical to high-end TV broadcasts such as the Discovery Channel
Xtreme Martial Arts (XMA)
documentary. This technology also played a critical role in creating feature films such as
The Matrix
,
Lord of the Rings
,
Spider-Man
, and
X-Men
. Video game designers have also used the technology to achieve stunning effects for games including ESPN's
NHL Hockey
and Sega's
NCAA Basketball
.

Project Profile: The Discovery Channel
For the Discovery Channel
XMA
documentary, the studios were asked to create 3D models of martial artists going through a variety of fight sequences. Impossible to view and analyze with the naked eye, the CG segments slow down complex movements and provide insight into precise body motions and the awesome forces behind them.
The producers of
XMA
, BASE Productions, Inc., have worked on high-end projects with similar elements before--feature films, broadcast documentaries, professional sports production--but never a project that combined all of these elements in such a sophisticated way. The goal was two-fold: to deliver stunning visual imagery of the human body in motion in a way never seen before; and to do so in a biomechanically accurate way, generating data that could be analyzed by scientists as well as animators. To reach these two goals, the studios supporting
XMA
director John Brenkus and would need the power of NVIDIA Quadro FX graphics.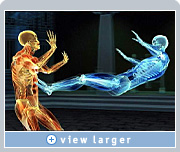 In this XMA sequence, the feet of one virtual martial artist enter the chest of another, just as a real blow would dent the chest of an real martial artist.

To create a lifelike virtual model, each martial artist in XMA stepped into Nexus Digital Studios' laser scanner for a 3D body scan. Even though the scan data comprised hundreds of thousands of polygons, the NVIDIA Quadro FX 3000 easily created a real-time 3D image of each martial artist. Next, biomechanically accurate, animated skeletons were scaled to fit the body size of each artist according to their scans. As the artists fought, Motional Analysis Studios (MAS) used digitizing cameras to capture the subtlety and precision of their acrobatic and often deadly moves. The MAS team used particularly sensitive biomechanical devices placed on the artists to capture their body and muscle movements, and the intricate movements of their weapons: swords, knives, a rope dart, and even a battle fan covered in spikes. MAS used this behavioral data and NVIDIA Quadro FX 3000 graphics to bring the 3D body scans to life by imposing natural movement onto the digitized characters.
The project exceeded the producers' most ambitious expectations. In the words of BASE executive producer Mickey Stern, "This combination of live-action footage, spectacular visuals, and biomechanically-sound animation in XMA may redefine the way we look at human motion and bring it to the screen. The entertainment value is self-evident; the value for scientific study and learning is unlimited. Martial artists push their bodies to super-human levels, and only with NVIDIA Quadro graphics could we have measured and illustrated it down to the bone and muscle level. NVIDIA technology drove our special effects and allowed us to bring Hollywood firepower to bear on a TV production."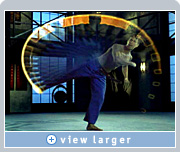 XMA viewers are better able to judge the velocity, acceleration, and lethal range of the performer's kick through motion capture technology, as highlighted in this image.

Digitizing the World
The close working relationship between Nexus and MAS-two companies sharing one location in Culver City, California-stems from the nature of the business they address. Their customers often require both the capture of an object's shape and appearance while at rest, and then the digitizing of the movements that bring the object to life.
Nexus Digital Studios: High-Resolution and Photorealistic Digitizing of Objects, Animals, and People
"A typical project will start with a scan," explains Domi Piturro, Studio Director at Nexus. "A 3D laser shoots a very low-level red beam onto an object. The surface is probed with the laser, and other cameras interpolate the 3D profile. All of the collected scan data goes into an NVIDIA Quadro FX 3000-powered workstation and a 3D image is generated in real time. The lasers are incredibly accurate and can capture the level of detail required to create an organic or lifelike digital model. Ten years ago, working with this amount of high-precision raw data was an impractical process. Today, with advancements in software and hardware-especially the NVIDIA Quadro FX 3000's ability to draw more than a hundred million triangles a second-it has become a technology that is prevalent in entertainment, gaming, and industrial applications. If you want a lifelike object or you need to capture someone's likeness, you hire us to do a scan. With a true 128-bit floating-point graphics pipeline, NVIDIA Quadro FX boards give us the ultimate in visual quality and realism. If you limit yourself to a 100% CG approach-using a CG model-you're going to end up with a very digital-looking puppet instead of a lifelike person."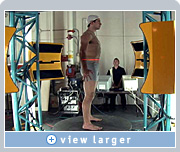 Nexus Digital Studios scans the body of an XMA martial artist. Nexus engineers rely on high-performance NVIDIA Quadro FX 3000 graphics to handle the high polygon counts required to digitize the minute details of the artist's body.

Nexus scans a broad range of items for its clients: cars for commercials, athletes for video games, actors for CG film sequences or for creating realistic crowd scenes of CG characters.
Motion Analysis Studios has digitized the movements of dogs, cats, elephants, and entire athletic teams. For a recent football-related commercial, they set up the world's largest motion-capture stage.
For digitizing movement, MAS marks an object or person with reflectors. As the object or person goes through its range of motions on the motion-capture stage, digitizing cameras capture a sequence of pictures from the reflective markers on the object. With the motion data, MAS can impose natural movement onto wire-mesh skeletons, and then drive the digitized characters inside an animation package or virtual environment. For film-quality characters and animation, the Nexus scans are literally brought to life by the MAS team and NVIDIA Quadro FX 3000 graphics.
"Anything that you can put a marker on, we can capture," says Scott Gagain at MAS. "And we get the subtlety of the motions down to a tee, so that when we're driving the characters that Nexus has scanned, the motions from that actual person fit into the characters and we can bring them to life with the help of NVIDIA Quadro graphics. That's what our studio does-makes things come to life-and NVIDIA technology is key to making that happen."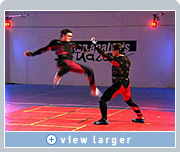 Martial artists in XMA are clad in reflectors, specially configured to feed biomechanically correct data on body and muscle movement to an NVIDIA Quadro FX 3000-powered computer.

Streamlining the Film Production Pipeline: NVIDIA Graphics Drivers, Studio-NVIDIA Collaboration, and Blistering Quadro FX Performance
Nexus and MAS teams rely solely on NVIDIA Quadro FX professional graphics solutions to support their scanning and motion capture solutions. Some Nexus engineers rely on workstations armed with high-performance NVIDIA Quadro FX 3000s to handle the high polygon counts required for scanning large or complex objects, or to digitize people's faces or bodies. Other tasks may require only a basic desktop PC equipped with an entry-level NVIDIA Quadro FX 500.
Both Domi Piturro and Scott Gagain agree that NVIDIA Quadro FX graphics solutions simplify the job of managing multiple platforms. Piturro explains, "It's been easy for us to spend our time doing our work, as opposed to spending our time figuring out which driver to use and how to get it running on a particular platform. The NVIDIA Unified Driver Architecture simplifies everything-I just download the latest NVIDIA drivers from the NVIDIA Web site, and I know they run on any of our platforms regardless of the particular NVIDIA graphics card installed. On the production side of our business, we only have to integrate one version of the NVIDIA drivers into our systems to support all platform/graphics combinations."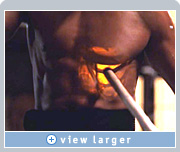 A martial artist in XMA jabs the end of a weapon into the torso of another. The jolt to the bones is illustrated through an animated x-ray technique mapped to the torso of the live action martial artist. This creates the illusion that animated bones and tissue are those of the live performer.

Nexus and MAS teams enjoy a close working relationship with NVIDIA development teams. An open exchange of information and feedback between the studios and NVIDIA has benefited both sides. Nexus and MAS teams gain in-depth information about NVIDIA Quadro hardware and software and NVIDIA gets an up-close look at demanding studio applications that ultimately enhance NVIDIA technology. "NVIDIA engineers come in here, they see motion capture working, and see first-hand what our challenges are. There's been a lot of technical back-and-forth, which has been very helpful," says Domi Piturro.
Beyond these significant benefits, the primary reason that Nexus and MAS rely on NVIDIA Quadro FX graphics solutions comes down to capacity and performance. Both studios, for instance, value the 27.2 GB/ per second memory bandwidth of the NVIDIA Quadro FX 3000 for driving large texture performance and high-resolution, full-scene antialiasing. For scanning, NVIDIA Quadro FX 3000 can handle huge datasets in real time with a level of precision that ensures high-quality results. Since much of their work is produced for high-definition broadcast, the 256MB graphics memory of the NVIDIA Quadro FX 3000 is optimal for high-resolution production.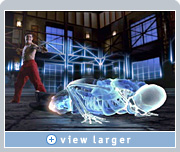 NVIDIA Quadro FX graphics give film makers the power they need to blend live action and animated sequences in XMA. The studios combined scanned human characters with streaming motion capture data and mapped those moving 3D characters onto 35mm digitized film.

MAS also demands maximum graphics performance. Jeff Swenty explains, "When we demonstrated a creature from
Buffy the Vampire Slayer
using an NVIDIA Quadro FX 3000, we blew away everyone at SIGGRAPH this year. We had a 200,000-polygon model of an animated creature using a 4K by 4K texture map-and we were moving it around in real time. Everyone's jaws dropped when they saw that we could move the creature, move the lights, and pan the camera. It was amazing."
NVIDIA Quadro FX graphics give Nexus and MAS the power they need to bring it all together. For example, their clients are often combining a scanned model with captured motion characteristics and dropping that moving digitized character into a 35mm digitized film. "You've got streaming motion-capture data and an actual 3D mesh or a surfaced model, if it's in final stages. Then you have a 35mm film rolling in the background so that you can match the character to the film sequence. We need massive graphics horsepower to handle all this streaming data. It would jam up any other graphics platform besides the NVIDIA Quadro FX boards we use," states Jeff Swenty.
Blurring the Distinctions Between Reality and 3D Digital Worlds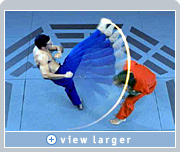 Viewers can see the speed, angle, and lethal reach of a martial artist's moves through motion capture technology highlighted in this XMA image.

Nexus and MAS share a vision of bringing film-quality visualizations to all of their clients. As Domi Piturro summarizes their goal, "The more that NVIDIA lifts the graphics bar, the more we can do. I can picture a day when our kids won't just sit and watch Saturday-morning cartoons. Instead, they'll get into the cartoon and participate in it. The more interactive graphics become, the more people will get into what they used to just watch. Adults are getting into it, too. We're moving in that direction. And that's why we're working with NVIDIA-we know where NVIDIA is going and that's where we see everything going."
For more information about NVIDIA Quadro solutions, please visit:
//www.nvidia.in/page/quadro.html
.
For more information about Nexus Digital Studios, please visit:
//www.nexusdigitalstudios.com
.
For more information about Motion Analysis Studios, please visit:
//www.mastudios.com
.
View clips of XMA at:
//dsc.discovery.com/convergence/xma/video/video.html
.
XMA
was produced by BASE Productions, Inc. for the Discovery Channel, John Brenkus, directing.