>
>
NVIDIA 3D Vision Technology


NVIDIA 3D Vision Technology
NVIDIA 3D Vision® technology delivers stereoscopic 3D images for gamers, movie-lovers and photo enthusiasts when configured with NVIDIA GPUs, NVIDIA 3D Vision active shutter glasses, and 3D Vision-Ready display/projector. Only NVIDIA 3D Vision supports the richest array of 3D content available - more than 600 3D games, Blu-ray 3D movies, 3D photos and streaming YouTube 3D videos.
Discover the difference NVIDIA 3D Vision® 2 can make in your PC gaming experience. The new gamer-inspired glasses have 20% larger lenses to give you the most viewing area with the least light leakage. They also work great with the innovative NVIDIA 3D LightBoost™ technology, which makes your screen up to 2x brighter for better 3D gaming and video viewing.1 Plus, 3D Vision 2 glasses are built from state of the art, softer materials designed to deliver more comfort and better fit.
Highest quality 3D solution
High tech active shutter glasses, designed with top-of-the-line optics deliver Full HD 1080p resolution per eye, best in class ghost free images, and ultra-wide viewing angles.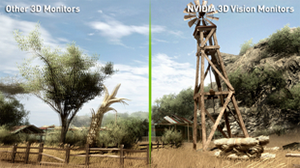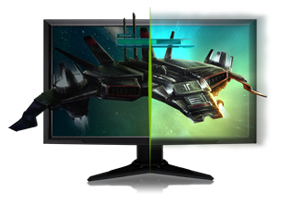 Brighter 3D images with NVIDIA 3D LightBoost monitors and notebooks
NVIDIA 3D LightBoost technology combines patented 3D monitor technology and improved glasses design to deliver increased monitor brightness by up to 2x¹ and reduced 3D ghosting when 3D Vision is enabled. In addition, users get increased environment brightness allowing you to view your keyboard more easily.
1 – Requires NVIDIA 3D LightBoost equipped monitor.
New gaming inspired design for the most immersive PC 3D experience
Built for gamers with twenty percent larger lenses for a wider viewing area and increased external light blocking for total 3D immersion.
Better materials for longer gaming sessions
Softer composite materials for a more comfortable fit. Increased flexibility also ensures better fit with gaming headphones.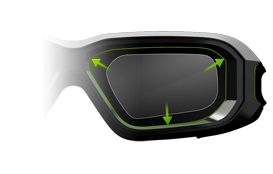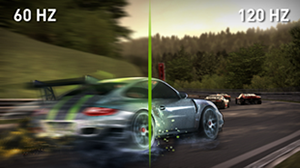 Ultra smooth 2D Gaming up to 120fps
3D Vision monitors are not just beneficial for 3D. They deliver best in class 2D gaming with performance twice the speed of standard LCDs. Unleash ultra clear, smooth motion 2D gaming up to 120fps and superior image with reduced motion blur, latency, and frame tearing to bring life-like reality to games and video.
Surround
With the power of GeForce GPUs, gamers are able to combine up to five displays to create the most immersive gaming environment possible. Here, you can leverage the latest NVIDIA display technologies including G-SYNC and 3D Vision and run them at resolutions up to 4K!
Gaming with a single display can be a great experience when running with a GeForce GPU. However, you can dramatically enhance that experience by raising the resolution to 4K or by utilising NVIDIA G-SYNC or 3D Vision. With the arrival of the latest generation of GeForce GPUs, gamers are now able to leverage these technologies across an array of up to five displays* for a whole new level of gaming realism.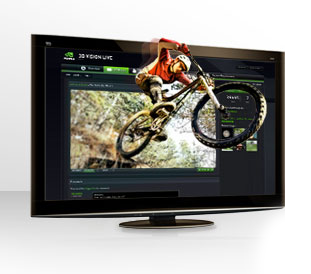 3DTV Play
Turn your 3D TV into the ultimate, high-definition, 3D entertainment experience by connecting it to your NVIDIA® GeForce® GPU-powered 3D PC or 3D Laptop.
Play all your PC games in immersive 3D
NVIDIA 3DTV Play software gives you the freedom to leverage the 3D processing power of your GeForce GPU to create an immersive 3D experience in your own home. Game night? Convert more than 650 of the most popular PC games into immersive 3D environments.
Watch Full HD Blu-ray 3D playback
Create your own personal 3D theatre experience and surround yourself in the latest Blu-ray 3D movies.
Enjoy 3D pictures on your 3D TV
Enjoy sports, movies, concerts, and more in amazing, high-definition, full-resolution 3D video - all streamed from 3DVisionLive.com. 3DVisionLive.com is an online video destination that will stream 3D trailers, music videos, sports, shorts, and more for your 3DTV Play™ PC.