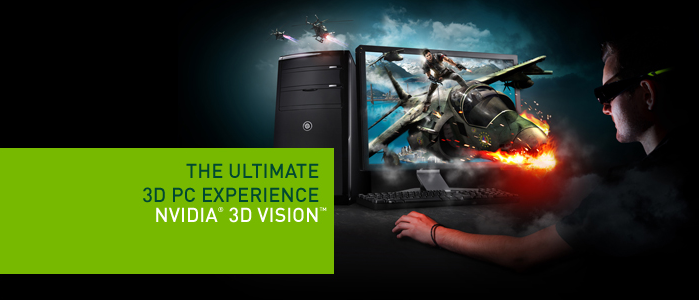 Just like movies and televisions, PCs are evolving from 2D to 3D. Today's PC manufactures, game developers and consumers rely on NVIDIA® 3D Vision™ to deliver the best 3D PC experience available.

A 3D Vision PC can fundamentally change the way you interact with your PC. Imagine playing over 400 existing PC games, watching Blu-ray 3D movies, taking your own photographs, or catching the latest sporting event streaming online, all in HD stereoscopic 3D. Now you can with a 3D Vision PC.
WORLD'S #1 3D GLASSES FOR THE PC.
NVIDIA 3D Vision wired glasses - the most affordable 3D Vision glasses ever, with the same great features and 3D quality.
Learn More
What you need