NVIDIA Material
Definition Language

Real Materials for Real Design Accuracy
NVIDIA's vMaterial catalog is a collection of real-world materials described in the NVIDIA Material Definition Language (MDL). They're designed and verified by NVIDIA Material Specialists for accuracy, control, and consistency, giving you a quick and reliable way to add realistic materials to your designs.
The NVIDIA Material Definition Language gives you the freedom to share physically based materials and lights between supporting applications.
Easily browse, change, and adjust materials to get just the look that's needed within your supported applications. While vMaterials are the perfect addition to Iray Rendering Plug-In products, they can be used in any application that supports NVIDIA MDL.
Customize Materials, Looks, and Layers
Because vMaterials are built on MDL, they can be used as-is or modified and layered to create custom looks in custom materials. With MDL, adding dust and scratches to a material is just that: take the base vMaterial and add a dust layer over a scratch layer. You can easily export your custom materials with just a few steps to transfer physically based materials seamlessly between applications.
Design Applications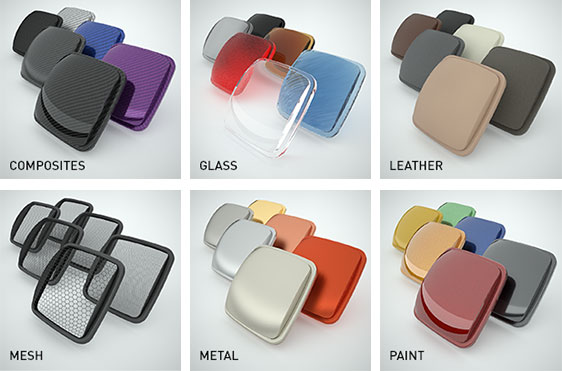 vMaterials for Product Design
Optimized for scenes where close viewing is necessary for design validation
vMaterials for Building Design
Materials that are meant to be viewed at a wide viewing range, such as large-scale building design projects