TESLA GPU ACCELERATORS FOR SERVERS
Accelerate your most demanding HPC, hyperscale, and enterprise data center workloads with NVIDIA® Tesla® GPU accelerators.
Scientists can now crunch through petabytes of data up to 10x faster than with CPUs in applications ranging from energy exploration to deep learning. Plus, Tesla accelerators deliver the horsepower needed to run bigger simulations faster than ever before. For enterprises deploying VDI, Tesla accelerators are perfect for accelerating virtual desktops to any user, anywhere.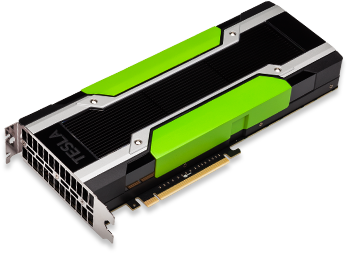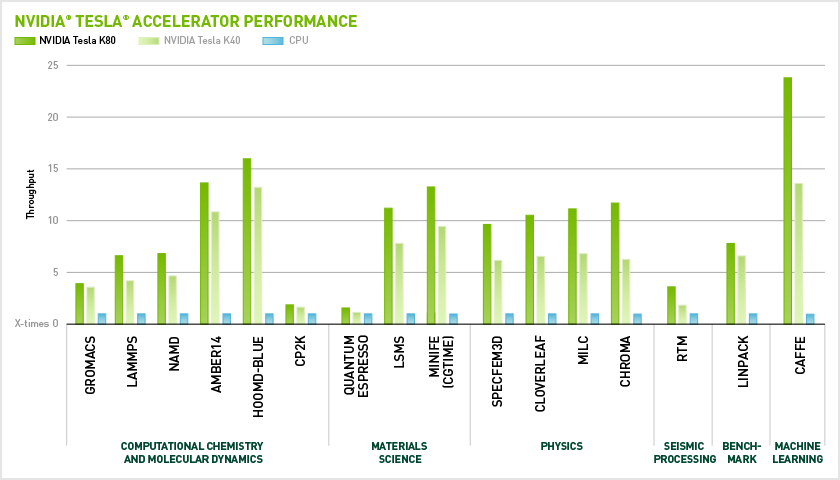 CPU: 12 cores, E5-2697v2 @ 2.70GHz. 64GB System Memory, CentOS 6.2. GPU: Single Tesla K80, Boost enabled or Single Tesla K40, Boost Enabled
Accelerating Your Data Center with the Right Tesla GPU
Mixed Workload HPC
Tesla K80 GPU Accelerator
The NVIDIA Tesla K80 Accelerator dramatically lowers datacenter cost by delivering application performance with fewer, more powerful servers. Learn More.
Hyperscale HPC
Pascal GPU is the computational engine for the new era of artificial intelligence, enabling amazing user experiences by accelerating today's deep learning applications at scale. Tesla P40 is purpose-built to deliver maximum throughput for exploding volume of data. The ultra-efficient Tesla P4 is designed to accelerate inference workloads in any scale-out server. Learn more.
Data scientist productivity and time to market for AI-based applications depends on reducing the time needed to train increasingly complex models. Servers powered by the Tesla P100 uses the performance of the new NVIDIA Pascal architecture to slash deep learning training time from years to days. Learn more.
Enterprise Virtualization
Tesla M6 GPU Accelerator
The Tesla M6 GPU Accelerator is designed specifically for data centers that are virtualizing desktop graphics. It comes in an MXM form factor running at less than 100W for high-density data centers with blade servers and converged infrastructure and can support 16 concurrent users. Find out more about GRID technology.
Tesla M60 GPU Accelerator
This accelerator is designed specifically for data centers that are virtualizing desktop graphics. It's a dual-slot PCI Express form factor for rack and tower servers capable of supporting 32 concurrent users. Find out more about GRID technology.
---
Tesla Platform Solutions for IT Managers
Some of the world's largest data centers take advantage of Tesla accelerators to deliver unprecedented system throughput. The Tesla Platform supports industry-standard applications and system management tools, making it easier than ever before for IT managers to maximize uptime and system performance. Learn more >
---
---
Hardware Support
Knowledgebase
NVIDIA knowledgebase is available online 24x7x365 and contains answers to the most common questions and issues.
User Forums
Discuss Tesla products, talk about CUDA development, and share interesting issues, tips and solutions with your fellow NVIDIA Tesla users on the GPU computing forums.
RMA Requests
For RMA requests, replacements, and warranty issues regarding your NVIDIA based product, please contact the OEM or reseller that you purchased it from.